The third annual Lawn, Garden and Home Show kicked off Friday evening at the Douglas County 4-H Fairgrounds.
Dozens of vendors from Lawrence and beyond will be showing their wares this weekend to homeowners who are looking for renovation ideas for the interior and exterior of their homes.
"It's a one-stop shop," said Bobbie Flory, executive director of the Lawrence Home Builders Assn.
The majority of participating businesses are from Lawrence, but a few traveled from Topeka and Kansas City to the fairgrounds, 21st and Harper streets.
"This is an excellent opportunity for folks to come out and see local businesses here in the community that can help them out -- from plumbing, electrical, putting in windows, flooring to all kinds of stuff outside from the garden show," said show chairman John Harman.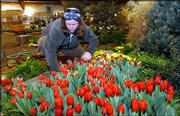 More than 100 people attended a Friday morning ribbon-cutting for the show, including Lawrence Mayor Sue Hack, Lawrence Chamber of Commerce members and business leaders.
The show continues from 9 a.m. to 8 p.m. today and from 9 a.m. to 4 p.m. Sunday.
Admission is $6; there is no charge for children under age 12.
Copyright 2018 The Lawrence Journal-World. All rights reserved. This material may not be published, broadcast, rewritten or redistributed. We strive to uphold our values for every story published.