WINSTON-SALEM, N.C. — It took six years and 15 tries for Wake Forest to finally beat Duke -- and then it took two overtimes.
Vytas Danelius scored 20 points and matched a career high with 14 rebounds as the 15th-ranked Demon Deacons snapped a 14-game losing streak to the Blue Devils with a 94-80 win Thursday night.
Before the game, the Wake Forest locker room was as silent as could be.
"When a team is as quiet as we were, it means one of two things -- either you're scared or you're ready," coach Skip Prosser said. "We were ready.
"It's one thing to tell them, 'Hey listen, it's Duke, a Hall of Fame coach, terrific, terrific players, but they don't dress in a phone booth. They're not Superman,'" Prosser added. "But until you beat them, it's really just coach-speak. Our guys were determined that if we were going down, we were going down swinging."
The victory kept the Demon Deacons (17-3 overall, 7-2 league) in first place in the ACC, a half-game ahead of No. 16 Maryland.
The Blue Devils (16-4, 6-4) lost their fourth straight ACC road game for the first time since 1996, shooting 31.5 percent.
Danelius scored all five of Wake Forest's points in the first overtime and four in the second extra session to help the Demon Deacons beat Duke for the first time since January 1997 -- when Tim Duncan was a senior.
"It's a good feeling to be tired," said Danelius, one of three players to log 45 minutes.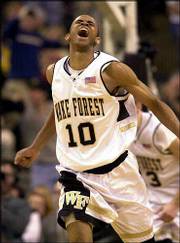 Eight players fouled out in a game that had 64 fouls called. Trent Strickland, one of the freshest players left on the court, scored 10 points in the second OT, while Jamaal Levy added 15 points and 13 rebounds.
Chris Duhon led Duke with a career-high 23 points, but the point guard missed his first six shots of the second overtime as Wake Forest outscored the Blue Devils, 20-6.
No. 1 Arizona 106, UCLA 70
Tucson, Ariz. -- Freshman Andre Iguodala scored a career-high 18 points to lead five Arizona players in double figures as the Wildcats routed UCLA.
No. 22 California 63, Washington State 53
Berkeley, Calif. -- Joe Shipp scored 20 points, and Brian Wethers had 16 as California scored the final nine points for its 16th straight home victory.
No. 24 Stanford 78, Washington 69
Stanford, Calif. -- Julius Barnes scored 21 of his 29 points in the second half as Stanford beat Washington.
No. 25 Saint Joseph's 78, Temple 59
Philadelphia -- Delonte West scored a career-high 32 points, and Pat Carroll got all of his career-best 24 on three-pointers, leading Saint Joseph's over crosstown rival Temple at the Palestra.
Copyright 2018 The Associated Press. All rights reserved. This material may not be published, broadcast, rewritten or redistributed. We strive to uphold our values for every story published.