Wichita — Kansas is blessed with fertile soil and a long history with the aviation industry.
Kansas is cursed with fertile soil and a long history with the aviation industry.
Depending on the vagaries of Mother Nature and the national economy, either statement could be valid a year from now, when business leaders take stock of 2004.
Boosted by a bountiful wheat crop and record high cattle prices, Kansas farm income rebounded in 2003 in spite of the return of summer drought conditions.
But in Wichita, the aviation industry remained stalled amid continuing layoffs. Unemployment benefits for many laid off workers ran out. Home foreclosures soared. Retail sales remained flat.
Next year's outlook is murky, but early signs offer hope the worst may be over.
Global grain stocks are low. Cattle herds are dwindling. Farm income is up. Aviation layoffs have slowed.
Continued drought in northwest Kansas has seriously damaged that region's fall-planted winter wheat, but elsewhere the greening wheat foretells a good harvest.
Need for moisture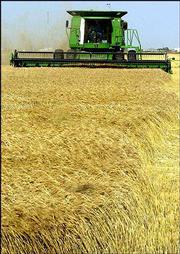 Still, Kansas farmers are haunted by the knowledge that the sporadic spring rains that salvaged the 2003 wheat crop did little to replenish subsoil moisture levels depleted by drought.
More than ever, rain will be critical for the 2004 winter wheat crop now in the ground and next year's spring corn, milo and soybean crops.
Economists with the Kansas Farm Management Assn. anticipate their final figures of the farms they track will show farm income up in 2003 -- but they mostly credit the timing of Farm Bill payments and the drought disaster bailout for the increase.
Nowhere in the state is the outlook for the 2004 wheat crop more grim than in northwest Kansas, which has been gripped in a drought since the summer of 2000. Wheat stands are spotty in the few fields where it has germinated.
"The financial condition is slightly improved in 2003 compared to 2002, but the emotional condition is much worse," said Mark Wood, economist with the Kansas Farm Management Assn. "The reason is ... our wheat crop is the worst looking wheat crop most people have seen in their lifetime."
Heavy snows late this year have restored hope elsewhere in the state, and conditions are ripe for a rebound in grain prices.
Kansas grain growers can look forward to a good 2004 market because global supplies of all major commodities are low, said Duane Hund, an extension farm analyst who works with financially struggling farm families.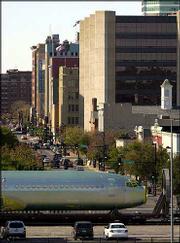 Soybean producers in particular have the best market than they have seen in at least six years, he said.
"There is some decent optimism out there right now. I've also seen that in the eyes of some ag lenders who are fairly comfortable with renewing lines of credit at this point," Hund said.
Dusti Fritz, assistant administrator for the Kansas Wheat Commission, said while world stocks are approaching levels not seen since 1996 -- a time when wheat prices spiked -- carry-over wheat stocks in the exporting countries are still high enough to moderate prices.
Cattle market uncertain
Meanwhile, Kansas cattle ranchers -- who enjoyed unprecedented prices after one case of mad cow disease in Canada prompted a ban on that nation's beef -- also face an uncertain market. The United States is moving closer to reopening its border to Canadian cattle imports. They also are facing fallout from a case of mad cow disease that was reported last week in Washington. State officials have reassured residents that U.S. beef is safe for consumption.
Analysts still expect beef prices to remain high because of the dwindling size of U.S. cattle herds. Those numbers were already down after ranchers cut back their herds a year ago in the midst of the drought, which shriveled pastures. Then this fall, many cattle producers took even more animals to market to cash in on record prices.
"Available supply for next year, even with the Canadian border open, is not predicted to be a whole lot greater than this year, so we still should have good prices for the year," Hund said.
Aviation looking up
In the aviation sector, Boeing's announcement of the 7E7 plane and congressional action on the 767 refueling tankers bode well for the long-term health of the region's biggest employer.
But those eagerly anticipated jobs -- the tanker program alone is expected to yield for 1,000 to 1,500 Wichita jobs -- will not arrive next year. And an investigation into the tanker contract has further delayed the project.
Economists are predicting economic recovery in the central Kansas region may not come until early 2005.
More job losses are forecast -- including 2,000 lost jobs next year in Wichita's manufacturing sector, said Janet Harrah, director of Wichita State University's Center for Economic development and Business Research.
Some industry sectors -- such as health care, general merchandise stores and transportation -- are expected to post job gains, she said.
In its 2004 market forecast, Grubb & Ellis reported industrial vacancies peaked in St. Louis, Kansas City and Omaha in 2003. Its researchers forecast that by the close of 2003 and much of 2004, industrial real estate in the Great Plains will begin to recover.
Tough year for industries
In the Kansas City area, bankrupt Farmland Industries Inc. -- once the nation's largest farmer-owned cooperative -- decided in 2003 to sell its businesses, including its pork unit, which went to Smithfield Foods Inc., and its fertilizer assets, most of which went to Koch Nitrogen.
Meanwhile, Sprint Corp. went through a tumultuous year as the company lost its longtime chief executive and cut thousands more jobs. In mid-March Gary D. Forsee left Sprint rival BellSouth Corp. to replace William T. Esrey.
Esrey and chief operating officer Ron LeMay were forced out by the Overland Park-based company's board over personal tax shelters now being investigated by the Internal Revenue Service. The tax shelters were recommended to the two top executives by the company's auditor, Ernst & Young, which was later replaced by KPMG.
In 2004, restrictions that allowed Forsee to leave Atlanta-based BellSouth for Sprint will be lifted, meaning he can finally participate in discussions about potential mergers, acquisitions and asset sales.
Independent telecom analyst Jeff Kagan said he expected Sprint to faced increased competition next year from cable and other companies. He expects communications companies, including Sprint, to offer more services, and he predicts consolidation in the industry.
"So there's going to be mergers; there's going to be offering of different services; there's going to be a lot of integration of the services that they have," Kagan said.
Copyright 2018 The Associated Press. All rights reserved. This material may not be published, broadcast, rewritten or redistributed. We strive to uphold our values for every story published.