KISSIMMEE, FLA. — They lined up side by side, muscles bulging from the rolled-up sleeves of their Kansas University football jerseys.
The game faces of Joe Vaughn, Danny Lewis and Banks Floodman were all present. A little happier than normal, but game faces nonetheless.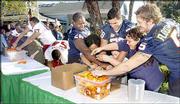 To the left of KU's guys, North Carolina State had three of its own preparing for battle: Sean Locklear, Cotra Jackson and Justin Wortham.
All but Jackson are -- to put it bluntly -- big guys. It seemed their size and strength would come in handy Sunday, though not for football. They players faced off in the Tangerine Squeeze-Off Competition at the Give Kids the World village in Kissimmee, Fla.
The players weren't using their talents in preparation for the Tangerine Bowl, which kicks off at 4:30 p.m. today in Orlando. Not Sunday morning. Instead, they were teaming with children to squeeze the living daylight out of fruit, trying to make more juice than the Wolfpack trio and their helpers.
One would think KU chose Vaughn (6-foot-1, 280 pounds), Lewis (6-4, 295) and Floodman (6-3, 230) to transform brawn to tangerine juice. Floodman denies the allegation.
"We just chose three guys at random," Floodman said. "We just happened to all be big."
With several teammates cheering the three on, including Tony Stubbs, Bill Whittemore and Kevin Kane, the two minute squeeze-off was under way. After the fruit was wrung dry by both teams -- including one tangerine that Vaughn squeezed so hard, it accidentally exploded all over the youngsters who were helping -- the Wolfpack were declared winners, having nearly twice as much juice as the Jayhawks.
"It was rigged," Lewis said with a smile. "They had more tangerines than we had."
It could spell trouble for KU, considering past squeeze-off winners have always won the next day's Tangerine Bowl.
But, in reality, it was clear that nobody lost on either side. After KU's trio cleaned up, several children swarmed their newfound role models for autographs and pictures. And all the Jayhawks who visited the Give Kids the World village -- a resort for children with life-threatening illnesses and their families -- seemed to come away with inspirations of their own.
"After you spend some time here and see families struggling with very ill children, it puts things in perspective," KU coach Mark Mangino said. "There's many more battles in life than just football."
Copyright 2018 The Lawrence Journal-World. All rights reserved. This material may not be published, broadcast, rewritten or redistributed. We strive to uphold our values for every story published.