Eagle, Colo. — The right of an alleged rape victim to be spared undue embarrassment during the trial of her accused assailant took center stage at the Kobe Bryant sexual assault trial Friday as a Colorado judge struggled to balance the rights of a criminal defendant, the rights of a victim and the first amendment rights of the media.
"I find no guiding authority from the Colorado or U.S. Supreme Court on balancing these rights," state District Judge W. Terry Ruckriegle declared from the bench during a pretrial hearing in the felony case against the Los Angeles Lakers guard. "So I am going to have to make the law."
The judge's determination to dig into the conflicting rights at stake means that the high-profile case called "People of Colorado vs. Kobe Bean Bryant" -- beyond its obvious appeal to celebrity magazines and all-news cable networks -- could also produce significant legal precedent.
Ruckriegle called for legal briefs and arguments next month on the question from four different legal interests -- Bryant's criminal defense lawyers, the local prosecutor who charged him, the alleged victim's private attorney, and a Denver lawyer representing local and national media outlets.
Although his team had a game Friday against the Denver Nuggets in Los Angeles, the defendant, 25, spent the entire day in court, seated with his lawyers and a three-man personal security detail who chattered constantly into walkie-talkies. Wearing a checked blazer and a mustard-yellow turtleneck, Bryant seemed relaxed at the defense table, at one point demonstrating the intricacies of the one-handed jumper to his lawyers.
The celebrity trial that has overwhelmed this rural village in the snow-draped Rockies stems from an incident June 30, when Bryant checked into a luxurious mountain resort. A 19-year-old hotel clerk told police the next morning that the NBA all-star had invited her to his suite, bent her over a chair, and raped her.
Bryant, a husband and father, has admitted having sex with the woman. He says the intercourse was consensual, and that he's innocent of forcible assault. If convicted, he faces penalties ranging from 20 years of closely supervised probation to a prison term of four years to life.
Prosecutor Ingrid Bakke told the judge that the Bryant case has become "a huge public issue" because of the treatment the accuser has received from Bryant's defense team and the press. "This humiliating exposure could intimidate victims in future cases from even making a complaint to the police," Bakke argued.
Ruckriegle said he would try to decide by next month "what would be an appropriate procedure" to balance the competing rights at issue. He said the issue must be resolved even though it will delay Bryant's trial, which now seems unlikely to begin before next summer.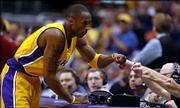 Copyright 2018 The Lawrence Journal-World. All rights reserved. This material may not be published, broadcast, rewritten or redistributed. We strive to uphold our values for every story published.