It's a good time to be a renter in Lawrence.
Low vacancy rates traditionally have given Lawrence landlords the upper hand over tenants, but the tables have turned. And competition to attract renters has forced landlords to offer special deals.
"People don't come in and ask whether we have anything available. They ask what our specials are," said Linda Love-McCall, manager of Park 25 Apartments at 2401 W. 25th St. "They're asking, 'What can you do for me?'"
The apartment section of the newspaper's classified pages reads like a list of giveaways. Some of the specials include a $200 gift card to Hy-Vee Food & Drug Store, a compact disc player, a radio, a television and a VCR. Popular financial deals include one or two months of free rent and $99 security deposits -- significantly less than the typical deposit of one month's rent. Some apartments also are relaxing pet policies.
"You open up the paper and you can see that everybody has something going on," Love-McCall said. "We all sound a little more desperate as time goes by."
Lawrence landlords aren't the only ones scrambling for tenants.
Reportedly, landlords in other major metropolitan markets are ponying up incentives. In the Atlanta suburbs, $500 gift certificates to Best Buy have been offered. In Memphis, free Starbucks coffee is waiting daily in many apartment complex lobbies. In other cities, free dog-walking services, free Internet and fax machine usage, and on-site dry cleaning services are offered.
Lawrence apartment dwellers seem to be taking notice.
"I'm thinking it might be a good time to look for a new place to rent," said Jeff Edmonds, a Lawrence apartment resident.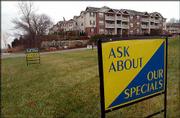 An oversupply
The downturn in the city's apartment market stems from an oversupply of apartment complexes, many apartment managers said.
"In the past couple of years a lot of apartments have been built in Lawrence, and I just don't think the population has caught up yet," said Sarah Dahl, an assistant manager with Resource Management, which operates Graystone, Eagle Ridge and Stone Crest apartments.
Since the beginning of 2001, 954 apartment units have been built or are under construction, according to the latest numbers available from city building inspection officials. And the glut continues to grow. City officials issued permits for 388 units in November, the largest monthly total on record.
"Lawrence has always been a good place for an investor in the rental market, but I think a lot of people have gotten carried away this time," Love-McCall said. "I hope their pockets are deep."
Bill Newsome, an investor with Lawrence-based Southwind Capital, said the reasons for the new apartments were economic.
"Money has been readily accessible," he said.
Newsome said the low interest rates had spurred new apartment complexes because it was less expensive to build.
It is uncertain what the city's vacancy rate for apartments is. A detailed study of vacancy rates was not available, but several in the industry estimated the rate was from 7 percent to 12 percent. Historically, the vacancy rate has hovered below 5 percent.
The volume of advertisements in the Lawrence Journal-World seemed to support estimates of a higher vacancy rate than usual. On the first Sunday of December this year, the classified page had 132 listings for unfurnished apartments. On the first Sunday of December 2002, there were 84 listings.
"I'm setting on vacants at this time of year for the first time in memory, and I've been here 11 years," Love-McCall said.
Steady rents
August Dettbarn, an appraiser in the Douglas County Appraiser's office, has been following the Lawrence rental market for 25 years. He said it was not just an oversupply of apartments that had caused the downturn. An increase in Lawrence townhomes was also a factor.
Townhomes, Dettbarn said, hurt the rental market in two ways. First, many of them are built to be rented, which adds to the supply of rental property. Second, the ones that aren't rented often are bought by first-time homebuyers who would be renting otherwise.
"You can get into some of these townhouses for about the same monthly payment that you would pay at one of the nicer apartment complexes," Dettbarn said.
Dahl said she also thought the weak economy had caused some Kansas University students to opt out of the apartment market.
"Maybe less students are coming here to live," Dahl said. "Maybe they're living with their parents in Topeka or Johnson County and commuting to school because their tuition has been raised."
But the Lawrence rental market hasn't dropped to the point that rents are falling, most industry observers agreed. Dettbarn monitors apartment listings in the classified pages throughout the year, and he said rates basically had been steady.
"What I've been looking at has been pretty stagnant," Dettbarn said. "Nobody is able to get much of an increase this year."
A drop in rent rates, though, isn't widely expected.
"I agree that the market is softer than it has been, but you have to remember that Lawrence has had it so good for so long that it is all relative," Newsome said. "This is still a pretty good rental market."
Dettbarn said he expected the incentives and specials would remain.
"If past patterns hold true, this will last a couple of years," Dettbarn said. "But then a few landlords will start holding out and then they'll all start holding out. Then renters will have to adjust because the concession will totally dry up."
Copyright 2018 The Lawrence Journal-World. All rights reserved. This material may not be published, broadcast, rewritten or redistributed. We strive to uphold our values for every story published.