The two makers of flu shots in the United States said Friday they had run out of vaccine and would not be able to meet a surge in demand resulting from fears of a particularly bad flu season.
Nevertheless, the companies said people who have put off getting their shots may still be able to find them, since distributors and doctors' offices may still have some left.
The companies, Chiron and Aventis Pasteur, together made about 80 million doses of the injected vaccine, which ordinarily would be enough to take care of U.S. demand.
"Because of the recent outbreak, we've seen an unprecedented surge of vaccine orders late in the season," said Len Lavenda, an Aventis spokesman. "As a result, we have now shipped all our available supplies."
"It's all been shipped out," said Chiron's John Gallagher. "We began shipping in August. It's all gone at this point."
The companies said they could not make more vaccine this year, because the process takes four months. By that time, the flu season would be over.
Another alternative is the FluMist, the more expensive inhaled version of the vaccine. Its maker, MedImmune Vaccines, made between 4 million and 5 million doses this year. Spokeswoman Jamie Lacey said that as of Nov. 18, the company had sold 400,000 doses, and "there is still a wide supply available."
The nasal spray is recommended only for healthy people ages 5-49, and disease doctors are urging it as an option to save the traditional vaccine for more at-risk people.
"If you're healthy, you have two options: Please take the option that the other folks can't have," said Dr. William Schaffner of the National Foundation for Infectious Diseases.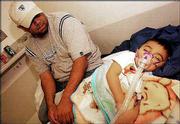 The Centers for Disease Control and Prevention said that in a typical year, between 70 million and 75 million Americans got the shots; the record is 80 million.
Dr. Julie Gerberding, the head of CDC, said that this year more people than usual got flu shots in October and November, and there was unusually high interest in December.
The CDC said it was not unusual for supplies to run short this time of year, as health care providers stop giving vaccinations. The agency said it was working to locate supplies that can be sent where they are needed.
"What we are telling people is there is still vaccine in the pipeline, although we are not sure how much," Lavenda said. "People who want to get a flu shot this year should not wait any longer. They will have to be persistent."
In Colorado's El Paso County, health director Rosemary Bakes-Martin said her agency hoped to order 2,000 doses this week but could come up with just 500 from suppliers.
"The story they're telling us is that they weren't expecting this shortage, that they were hit with increased orders in the last week," she said.
Demand is high for flu vaccinations at the Lawrence-Douglas County Health Department, but director Kay Kent says the shots will be available as long as the supply lasts.The department originally ordered 6,600 flu vaccination doses, about 150 more than it administered last year. An additional 800 doses are expected by the middle of next week.¢ Call the Health Department, 843-0721, for an automated message about flu vaccine availability.¢ The department gives shots at its first-floor clinic at 200 Maine. Shots are available from 8:30 a.m. to 8 p.m. Mondays, 9:30 a.m. to 4:30 p.m. Tuesdays, 8:30 a.m. to 4:30 p.m. Wednesdays, 8:30 a.m. to 7 p.m. Thursdays and 8:30 a.m. to 4:30 p.m. Fridays.Each shot costs $15, although no one will be turned away for inability to pay. People can bring their Medicare or Medicaid cards, and the department will file the necessary paperwork.¢ Hy-Vee's pharmacy at Clinton Parkway and Kasold Drive also is providing flu shots for $15, from noon to 9 p.m. Monday and 11 a.m. to 9 p.m. Tuesday.¢ More than 3,000 vaccinations have been given to Kansas University students, faculty and staff at Watkins Health Center.
The sudden late demand for flu shots was triggered by reports of an especially bad flu season, especially for children.
The outbreak was particularly intense in Colorado, where within the past month, more than 6,300 people have been infected and at least six have died. All the dead were under 16 years old.
Colorado is one of 13 states with a widespread flu outbreak, the highest designation given by the CDC. The others are Alaska, Arkansas, Idaho, Nebraska, Nevada, New Mexico, Pennsylvania, Tennessee, Texas, Utah, Washington and Wyoming.
Health officials in several of those states said there were still flu shots available, but they were fast disappearing.
"We will run out," said Ann Wright, spokeswoman for the state health department in Arkansas, but officials don't know when.
Even before this year's deaths, there were signs this could be a bad flu season. Some parts of the country were hit hard a month earlier than usual, and doctors are seeing the A-Fujian-H3N2 strain, part of a class of flu viruses that caused severe outbreaks in the United States in the 1990s.
Even though health officials urge people to get their shots, it is still not clear how effective they will be against this strain, which is somewhat different from the three that this year's vaccine is designed to combat.
Copyright 2018 The Associated Press. All rights reserved. This material may not be published, broadcast, rewritten or redistributed. We strive to uphold our values for every story published.