A North Lawrence building, vacant since 1998, will be opened as a furniture store in October.
Greg Dannevik, an owner and the manager of the store, said Free State Furniture was expected to open in about six weeks.
Construction work is under way on remodeling the building at 608 N. Second St., which previously was the location of Chris's Fresh Market Place.
The store will be a small, locally owned furniture store seeking to compete with a growing number of large furniture chains that have entered the Kansas City market.
"One of the things that I really like about Lawrence is that the community likes to support its local businesses," Dannevik said. "Hopefully, we can compete with the guys down the road, like the Nebraska Furniture Mart and Benchmark, and keep a few more shoppers in Lawrence."
Dannevik said the store would have about a 6,000-square-foot showroom and would carry a full line of new furniture, including dining room, living room and bedroom sets.
The furniture business is new to Dannevik. For the past 10 years he was a golf professional working in the Kansas City area. Most recently he worked at Mission Hills Country Club.
He teamed with Kevin Polian, a North Lawrence businessman who operates rental halls, including the one located at Teepee Junction. Polian, an investor in the store, said they liked the size and high visibility of the former grocery store building.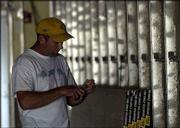 Plus, Polian said he thought the city needed another furniture store.
"Honestly, we think there is a demand in Lawrence," Polian said. "I bought a house recently and spent more time looking for furniture in Kansas City than I did in Lawrence."
According to telephone directory listings, the number of furniture stores in the city has remained virtually stagnant during the past decade, despite significant increases in population.
That is changing, though. In addition to Free State Furniture, a national furniture store chain is expected to locate in a portion of the former Kmart store at 31st and Iowa streets. Developers for the property have not released the name of the business because a lease hasn't been signed.
Also the Nebraska Furniture Mart in western Wyandotte County, about 30 minutes east of Lawrence, is expected to gain market share from city residents. Officials with that store recently said they expected it to become the largest-selling furniture store in the country, with annual sales of more than $350 million.
Free State Furniture will be the first retail use for the North Lawrence building since Chris's Fresh Market Place closed its doors in 1998. The building had served as a grocery store since 1949, first as Cole's IGA, then Rusty's IGA and then Roger's Food Center.
Hopes for a grocery store to locate in the building, however, faded shortly after Chris's Fresh Market Place closed. Several developers have said that the number of households in the North Lawrence area isn't large enough to support a grocery store.
Copyright 2018 The Lawrence Journal-World. All rights reserved. This material may not be published, broadcast, rewritten or redistributed. We strive to uphold our values for every story published.