Bill Reynolds' first job title was "temporary indefinite substitute mail handler" for the Topeka post office in 1966.
"Doesn't sound like a long-term career, does it?" Reynolds said Wednesday.
It's taken 36 years, but the "temporary" gig is finally coming to an end. Reynolds, the Lawrence postmaster since 1986, retires Monday.
"That's the first day I'm eligible to retire," said Reynolds, who turns 55 that day. "It's time to go do something else."
Reynolds went to work in the Topeka post office while a student at Washburn University. After graduation, he went into the U.S. Postal Service's management training program. The job took him to Kansas City, Kan., Lawrence and Wichita before he returned as postmaster to Lawrence.
Supervising mail delivery in a college town, he said, has been a challenge.
"We have 44,000 changes of address on file here," Reynolds said. "That's more than the number of places we deliver to. And that 44,000 files turns over every 18 months."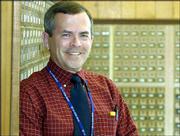 During his tenure, the Lawrence post office became a popular place to hang out on April 15, when taxpayers file their returns. The Alferd Packer Memorial String Band plays every year, providing entertainment to otherwise grumpy filers.
"It's really been enjoyable," Reynolds said. "The Lawrence community and the post office got quite a bit of notoriety from it."
But the job has changed since the 9-11 terrorist attacks on America. Anthrax samples sent through the mail shortly after those attacks forced post offices everywhere to beef up security.
"The level of security in the postal service is much higher than it used to be," Reynolds said. "We're much more aware of our surroundings."
Further security measures can be expected in the future, he said.
"I will not be surprised if those become more stringent as time goes on," Reynolds said. "It's not a good change, but it's something we may have to do to protect the citizenry."
After Monday, he said, Tim Dwyer, of Lee's Summit, Mo., will take over on an interim basis until a permanent replacement is found.
Retiring Postmaster Bill Reynolds will be feted with a reception at 1 p.m. Friday in the downtown post office at Seventh and Vermont streets.
And Reynolds will stay in the delivery business. His wife, Sharon, owns a flower shop.
"I'll switch from mail delivery," Reynolds said, "to flower delivery."
Copyright 2018 The Lawrence Journal-World. All rights reserved. This material may not be published, broadcast, rewritten or redistributed. We strive to uphold our values for every story published.