It's been about 18 years since Kief's Audio/Video salesman Wes Bonner competed as a high school wrestler, but he's still got the moves.
Just ask the suspect Bonner wrestled to the ground Monday after a reported shoplifting incident at the Kief's store at 2429 Iowa.
Kief's employees said the 35-year-old man tried to leave the store Monday morning with a handful of DVDs stuffed in his pants. Three workers followed him across Iowa Street, watched him pick up a bag they said contained more DVDs, and chased him into an apartment complex, where two of the workers found him hiding behind a cabinet in a laundry room.
When the suspect tried to run, Bonner wrestled him to the ground and held him until police arrived.
"I just kind of tackled him and threw him into a wall," said Bonner, 36, a former wrestler at Lawrence High School.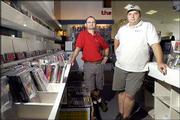 Sgt. Mike Pattrick, a Lawrence Police Department spokesman, said police arrested the man, a Lawrence resident, on suspicion of stealing 19 DVDs worth $391.
Two other store employees-- stereo installation manager Joe Schwartz and vice president Rob Kiefer -- helped Bonner chase the suspect after a customer alerted them to the theft.
The police officer who arrested the man had two words for him: "You again," Bonner and Schwartz said. They said they were frustrated that the man appeared to be a repeat offender but still was on the streets.
Schwartz said that despite his 260-pound frame and the 100-plus degree heat, he didn't think twice about giving pursuit.
"I don't own the store or anything, but I do get paid from here. You're stealing from my pocket, then," he said. "Money's tight these days. Don't mess around with it."
Copyright 2018 The Lawrence Journal-World. All rights reserved. This material may not be published, broadcast, rewritten or redistributed. We strive to uphold our values for every story published.