Mark Zwahl still remembers learning in his Weekly Reader about Love Canal catching on fire.
The story about the New York neighborhood built on a chemical waste dump made such an impression on him that when he opened Z's Divine Espresso about three years ago, Zwahl wanted to do everything he could to protect the environment and conserve energy.
"It's in my mission statement," he said. "It's been a core value of our business to be environmentally sound."
Zwahl now owns two coffeehouses, one at 10 E. Ninth St. and another at 1800 E. 23rd St.
Zwahl's efforts impressed the Kansas Department of Health and Environment enough that it is recognizing his business with one of its Pollution Prevention Awards. Z's Divine Espresso is one of six groups that will be honored during a luncheon today at the Marriott Hotel in Wichita as part of the two-day Kansas Environment Conference.
KDHE sponsors the awards for businesses, industries, municipalities and individuals who strive to prevent pollution. Nominations or applications for the award are made to KDHE, and a committee selects the winners.
One of the key practices Zwahl's business has become noted for is saving coffee grounds. He estimates the business saves as much as 100 pounds of coffee grounds weekly. Most of the grounds are picked up by Bob Lominska, of Hoyland Farm in Jefferson County, who uses them as fertilizer.
In addition, Zwahl put a composting bin at one of his stores for the grounds to be used for landscaping.
Other practices: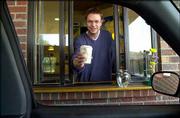 l Customers get a 25-cent discount if they bring their own coffee cup. That saves an estimated 500 cups a month from being handed out by the store and ultimately trashed, Zwahl said.
l Motion-detector lights are used to save energy in the stores' bathrooms.
l Drive-through orders are recorded with dry-erase markers on order cards made from shower molding. The cards are erased and used again. It saves up to 300 pieces of paper a day, Zwahl said.
"We do a lot of little things," Zwahl said. "That's the neat thing about being in a business with high volume. You can really have an impact."
Other winners:
¢ Deluxe Financial Services in Kansas City, Kan.
Panhandle Eastern Pipe-line Co. in Haven
Memorial Hospital in Abilene
The Coordinating Committee for Automotive Repair of Overland Park
The city of Wichita
Copyright 2017 The Lawrence Journal-World. All rights reserved. This material may not be published, broadcast, rewritten or redistributed. We strive to uphold our values for every story published.