Indianapolis — Natalie Williams had 15 points and 11 rebounds, the 61st double-double of her WNBA career, as the Indiana Fever kept their playoff hopes alive by defeating the Cleveland Rockers, 59-46, Saturday night.
Tamika Catchings, the league's third-leading scorer and sixth-leading rebounder, overcame an eye injury to contribute 15 points.
Catchings caught an inadvertent elbow from LaToya Thomas with 4:13 remaining in the first half, suffering a cut to the left eye that required three stitches. Indiana was leading 25-19 when Catchings was hurt, and the Fever was still ahead, 34-26, when she returned wearing a bandage below her eye with 14:30 to play.
Christy Melvin led Cleveland with 12 points and Thomas scored 11.
Shock 86, Lynx 77
Minneapolis -- Kedra Holland-Corn scored 19 points, all in the second half and overtime, as Detroit clinched the WNBA's best record.
The Shock (24-9), who entertain Washington Monday in their regular-season finale, are the first team in any major sport since 1890 to finish with the best regular-season record in the entire league the year after finishing with the worst.
Sun 74, Mystics 67
Washington -- Katie Douglas scored a career-high 28 points, including eight in a row late in the game, as Connecticut boosted its playoff chances.
Sparks 83, Silver Stars 70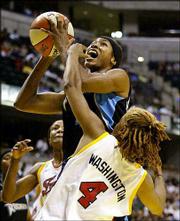 Los Angeles -- Lisa Leslie scored a season-high 31 points as Los Angeles wrapped up first place in the Western Conference.
Storm 71, Comets 64
Seattle -- Lauren Jackson converted a three-point play with 1:26 remaining as Seattle snapped a five-game losing streak.
Monarchs 61, Mercury 54
Sacramento, Calif. -- Yolanda Griffith scored 15 points to lead Sacramento over Phoenix. Anna DeForge led the Mercury with 14 points.
Copyright 2018 The Associated Press. All rights reserved. This material may not be published, broadcast, rewritten or redistributed. We strive to uphold our values for every story published.