Aluminum siding can save a homeowner money. It's easy to clean, provides insulation and never requires painting.
But it could cost Lawrence property owners in five proposed historic districts thousands of dollars in forgone tax credits.
"(Siding) would be something that would pretty clearly be a violation of the standards," said Historic Resources Commission member Virgil Dean.
Welcome to life in a historic district.
The final proposals for the five districts -- two along Rhode Island Street in East Lawrence, two along Ohio Street in the Pinckney Neighborhood and one downtown -- are in and will be forwarded by Sept. 1 to the State Historic Sites Review Board.
The proposals include lists of every property in the proposed districts and their designations: historic, contributing to the character of the neighborhood or noncontributing. Those classified as historic or contributing may qualify for state tax credits for qualifying improvements.
Those labeled noncontributing or outside the districts will not be eligible for the credits. Yet, according to Dean, changing the siding on a home, changing the windows or otherwise fiddling with the exterior appearance of a building in the district or within 500 feet of the district's boundaries would trigger a review.
"It's the process we object to," said Niki Christopher, who lives just outside one of the proposed districts at 436 La. "It's like being a responsible adult and having to ask every time you go to the bathroom."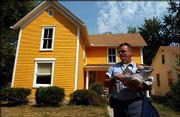 Christopher is one of the leaders of a group of neighbors opposed to the proposed historic districts in the Pinckney neighborhood. She said residents hadn't been given enough information about the process and were willing to go to court to protect their rights.
"Obviously I would be much more pleased if we could negotiate an amicable solution to this," said Christopher, an attorney. "But if they change the status of property owners in the community without giving them an opportunity to speak out ... yeah, I'd be very tempted to take it to court."
Lawrence City Commissioner Sue Hack said she hoped to head off conflict of that kind. She said the City Commission would conduct a public hearing on the proposed districts before they were up for final state approval.
"This is obviously setting off some alarms, so I think we need to have some conversation about it," Hack said.
The city is not required by law to have a public hearing, but the public will have the opportunity to make comments to the State Historic Sites Review Board.
Dean said the districts were not final until they had been approved by the state and the federal Department of the Interior.
"If enough opposition is registered, they could decide to not move them forward," Dean said.
Christopher said she would appreciate the chance to make her voice heard, but she's not optimistic.
"It's hard to stop a train once it's rolling," Christopher said.
Copyright 2017 The Lawrence Journal-World. All rights reserved. This material may not be published, broadcast, rewritten or redistributed. We strive to uphold our values for every story published.