MONROVIA, Liberia — Humanitarian aid trickled into Liberia's devastated capital by plane and boat Saturday, a welcome relief but not nearly fast enough for residents famished after 70 days of siege. Fighting persisted in the interior, blocking hopes of immediate help for the millions trapped there.
About 500 civilians gathered to stare at the gates of the port where food was delivered, hoping for handouts. Thousands of others coursed across the newly opened bridge that connects famished government-held areas to the markets of the former rebel-held territory around the port.
"We're still starving, dying of hunger. We're hoping to work for food," said Joseph Sahn, 29. "I'm completely broke. Nothing in my pockets," he said, shaking the sides of his tattered trousers.
Rebels ceded control of the port Thursday to West African peace troops backed by U.S. Marines, ending a rebel siege of President Charles Taylor's government that killed hundreds and left residents in government-held areas with little to eat but flower leaves and snails. The rebels withdrew after Taylor resigned and left for Nigeria on Monday.
Humanitarian workers are returning to the city after largely vacating Monrovia during the siege, and the first aid ship docked Friday. Aid workers distributed small amounts of aid Saturday, handing out sacks of cornmeal to families at a church and elsewhere in the city.
At the airport, planes landed food and other aid, including a U.N. Children's Fund shipment of high-energy biscuits and milk for malnourished children, spokeswoman Margherita Amodeo said.
Amodeo said it would be some time before aid workers could travel out of Monrovia to reach 1 million to 2 million needy in Liberia's interior, where fighting continues between rebels and fighters of the embattled government.
Two U.N. planes also unloaded about 110 Nigerian peacekeepers. That means nearly 1,000 members of a planned 3,250-strong West African peacekeeping force have been deployed.
About 200 U.S. Marines are billeted at the airport to back up the force if necessary.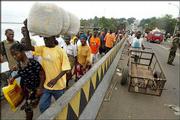 Copyright 2018 The Associated Press. All rights reserved. This material may not be published, broadcast, rewritten or redistributed. We strive to uphold our values for every story published.