New York — The blackout in the Northeast couldn't stop Wall Street from trading Friday, but the stock market still ran into some glitches -- phone problems, absent workers and a nearly daylong suspension of trading at the American Stock Exchange.
Stocks barely budged in a very lightly traded session, and the major indexes ended the day little changed.
Power was restored to the Wall Street area after 6 a.m., but stock market officials had said they could operate even if the outage continued. New York City Mayor Michael Bloomberg rang the 9:30 a.m. opening bell at the New York Stock Exchange.
"It looks like it's business as usual," said NYSE chairman Richard Grasso.
However, the smaller Amex was unable to open because of problems at a Consolidated Edison substation that supplies steam used to cool the trading floor computers.
With help from a city agency, the Amex set up a portable generator and opened briefly just before its regular 3 p.m. close.
It was an important trading day on the Amex, because it's one of the main markets for stock options. August options expired Friday, usually prompting a flurry of trading.
Robert Walter, vice president of Investrade, a Chicago firm that specializes in options, said the other four exchanges that trade options had picked up the slack during the day.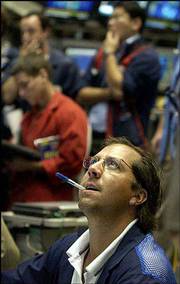 Copyright 2018 The Associated Press. All rights reserved. This material may not be published, broadcast, rewritten or redistributed. We strive to uphold our values for every story published.