ASUNCION, Paraguay — Nicanor Duarte took up the presidency of Paraguay on Friday, pledging to wage an all-out war on the "mafias" he blamed for widespread corruption and cronyism in one of Latin America's poorest nations.
After the red carpet pomp of his inauguration, the 47-year-old leader of the Colorado Party declared in his first speech in office that he would smash corruption and tackle the worst economic crisis in Paraguay's history.
"We are going to wage war on the mafias," the president said as he punched his fist in the air during a tightly guarded ceremony outside Congress. "We will take the fight to all those involved in piracy and contraband trafficking."
In a country where corruption is ranked a higher national concern than deep poverty, Duarte vowed he would move to rid the country of illegal factories manufacturing knockoff goods, battle tax evasion and fight drug traffickers and others who make Paraguay a transit point.
Campaign pledges to fight corruption and poverty gave Duarte an easy victory over two top challengers in the April 27 presidential vote. The victory extended the more than half-century grip on power by the Colorados, the longest-ruling party still in power in the world.
The Colorados have dominated politics in this South American nation of 5.5 million people since 1947, governing both in times of dictatorship and civilian rule through frequent crises, coups and unrest in the streets.
The son of a police officer and a seamstress, Duarte vowed to help the poor and disenfranchised in a country where 64 percent of the population is mired in poverty. He signaled, as a center-left politician, that he would not slavishly follow the unabashed free-market principles that have yet to bring prosperity to Paraguay.
In recession since 1995, Paraguay is struggling with a public debt estimated at $2.2 billion. Duarte will be charged with guiding negotiations with the International Monetary Fund on restructuring that debt burden.
Duarte succeeded Luis Gonzalez Macchi, who was appointed by the Senate four years ago amid a political crisis touched off by bloody street protests and the resignation of his predecessor.
On Thursday, a judge said he had taken the "preventive" step of barring Gonzalez Macchi from leaving the country as officials investigate accusations that some $16 million in funds were improperly sent abroad.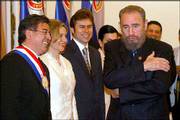 Copyright 2018 The Associated Press. All rights reserved. This material may not be published, broadcast, rewritten or redistributed. We strive to uphold our values for every story published.