The Jayhawks are migrating back to town.
Thousands of Kansas University students will settle into their living quarters this weekend in preparation for the start of the fall semester. Classes begin Thursday.
Residence and scholarship halls open to students Sunday, the same day "Hawk Week" -- a week of events geared toward introducing new students to KU and Lawrence -- begins.
John Wilson remembers what Hawk Week is like. Last year, he was a freshman from Lawton, Okla.
"I didn't know anybody up here," he said. "Hawk Week was essential for me to get connected to other people, resources and offices."
In addition to the traditional events surrounding the start of classes, Hawk Week organizers have added some off-campus events designed to introduce students to the Lawrence community. KU estimates 10,000 students participate in the activities each year.
Thursday night, about 20 downtown businesses will give a 20 percent discount to students who show their IDs. Others will have different offers for students.
The Lawrence Aquatic Center, 727 Ky., will admit students free that day, and buses will run between the Daisy Hill residence halls and downtown.
"We're trying to get students to realize Lawrence is a great community and show them all that the town has to offer," said Shanda Hurla, Hawk Week coordinator in the Office of New Student Orientation. "We want to introduce students to the downtown area."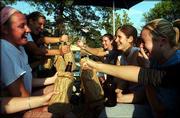 Another new event this year is a student picnic from 5 p.m. to 7:30 p.m. Wednesday. The picnic, open to all new students, is on the Lied Center lawn. Information for obtaining a meal pass for the picnic can be found online, at www.hawkweek.ku.edu/schedule/8-20.shtml.
Student convocation, with speeches by Chancellor Robert Hemenway and others, will follow at 8 p.m. in the Lied Center.
Other popular Hawk Week events will return this week, beginning Sunday at the Kansas Union with "Viva Las Unions," a casino-style night of games and give-aways.
Monday is Traditions Night, when students learn how to "wave the wheat" and do the Rock Chalk chant, two staples of attending KU sporting events.
"It talks about not only the athletic traditions of KU but the academic traditions of KU," Hurla said.
Mixed in with the fun evening activities are workshops and tours of campus. Orientation assistants will take students around campus to show them where their classes are, and organizations will distribute information on their activities.
Wilson said one of those events -- a tour of Watson Library -- helped him the rest of the year.
"When you're used to your little high school library, that helps," he said. "I never regretted doing that."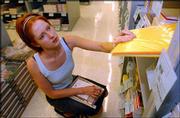 Highlights of this year's Hawk Week events, which surround the start of classes at Kansas University.Sunday¢ Union Fest, 9 p.m. to midnight, Kansas Union. A Las Vegas-themed event with a mock casino, music, karaoke and freebies.Monday¢ Ice cream social, 6:30 p.m. to 8 p.m., Adams Alumni Center.¢ Traditions Night, 8 p.m. to 9 p.m., Memorial Stadium.¢ Rock-A-Hawk, 10 p.m. to 1 a.m., Visitor Center Parking Lot. Music, carnival games, contests and free Coca-Cola products.Tuesday¢ Beach 'N' Boulevard, 7 p.m. to 10 p.m, Wescoe Beach. Sand volleyball, live music, games and prizes. Also includes the Info Fair, with information on hundreds of campus and community organizations.¢ Hawk Link Block Party, 10 p.m. to 1 a.m., Wescoe Beach. Music, dancing and entertainment.Wednesday¢ Take Over the Beach, 1 p.m. to 4 p.m., Wescoe Beach. Music, entertainment and free prizes, sponsored by the Office of Multicultural Affairs and Multicultural Resource Center.¢ University Picnic, 5 p.m. to 7:30 p.m., Lied Center Lawn. Free to new students and students living in residence and scholarship halls.¢ Convocation, 8 p.m., Lied Center. Chancellor Robert Hemenway and other dignitaries speak to kick off the school year.Thursday¢ First day of classes¢ Downtown Hawks, 5 p.m. to 7 p.m. in downtown Lawrence. Retailers with Jayhawk logos in their windows will offer 20 percent discount on purchases and other promotions to students with KU IDs. The Lawrence Aquatic Center will offer free admission. Shuttle buses will run from campus to downtown.Friday¢ Lied Center Art Festival, 6 p.m. to 7 p.m., Lied Center lawn. Cakes, balloons, face painting, clowns, prize giveaways and other activities.¢ Lied Center Concert, 7 p.m. to 8 p.m., on the Lied Center Lawn. Features Alison Brown.¢ Movie on the Hill, 10 p.m. to midnight, Campanile Hill. "Anger Management."Saturday, Aug. 23¢ Community service project, 10 a.m. to 2 p.m., leaves from fourth floor of Kansas Union. Volunteers will be bused to sites around Lawrence for community service work.¢ SUA Welcome Back Concert, 7 p.m., Lied Center lawn. Features two local bands and gb leighton of Minneapolis, Minn.
Copyright 2018 The Lawrence Journal-World. All rights reserved. This material may not be published, broadcast, rewritten or redistributed. We strive to uphold our values for every story published.