Cleveland — From beauty salons to homes to hospitals, people relied on bottled water Friday after an epic power outage sparked one of the worst water crises in the city's history.
Power was restored early Friday to four pumps that move water uphill from Lake Erie to 1.5 million customers in the city and suburbs, but the flow was a trickle at faucets because of low pressure.
"This is the crisis of a career for me," said Julius Ciaccia, the city's water commissioner.
Ohio Gov. Bob Taft authorized use of about two dozen National Guard tankers to begin distributing emergency drinking water, but most businesses and residents were left with bottled water.
When the water outage left a Beachwood nursing home unable to flush toilets and sanitize floors, housekeepers lined up and passed bucket after bucket of water from the swimming pool outside.
"Our housekeeping bucket brigade brought buckets of pool water, which is chlorinated, to every room," Richard Schwalberg, administrator of Menorah Park, said Friday.
Stylists at Creative Cuts in suburban Cleveland boiled water for shampoos.
"We figured this would help them feel better," said nail technician Becki Hovan.
Administrators at The Cleveland Clinic went without coffee for their overnight shifts to save power and water for patient care.
Only one station is needed to pump water to all city customers, but officials never anticipated all four would go down at once, Ciaccia said.
City officials considered the possibility of a total shutdown of the pumps during preparations for the feared Y2K bug, but concluded they "would have basically had to build another power plant" to maintain service, Ciaccia said.
Now Ciaccia and Mayor Jane Campbell say officials will again review the city's emergency plans.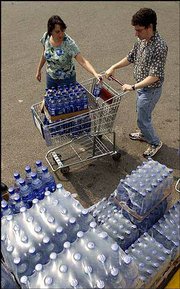 Copyright 2018 The Associated Press. All rights reserved. This material may not be published, broadcast, rewritten or redistributed. We strive to uphold our values for every story published.