Washington — The Bush administration has directed federal land managers to remove obstacles to oil and gas development in parts of five Rocky Mountain states.
New policy directives issued to Bureau of Land Management state directors give the officials tools to undertake the administration's long-standing goal of opening the Rocky Mountain West to increased exploitation of oil and gas resources.
BLM field offices in Montana, Wyoming, Utah, Colorado and New Mexico will have until the end of the year to evaluate whether restrictions on oil and gas development can be removed.
BLM Director Kathleen Clarke said the policy directives would "further our agency's efforts to ensure a reliable supply of affordable energy, as called for by the president."
"Our overall objective is to ensure the timely development of these critical energy resources in an environmentally sound manner," she said in a statement last week.
Environmentalists say the policies are another step in White House's efforts to favor energy development over protection of wild lands.
"This policy shifts the land management equation in favor of drilling and automatically assumes that oil and gas production is the top value of public lands," said Pete Morton, a resource economist with the Wilderness Society. "I think it's a position that is not consistent with BLM's mission and with the values that the American public holds for their land."
The BLM manages 261 million acres of federal land, mostly in 12 Western states.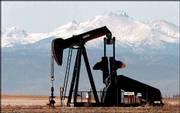 Copyright 2018 The Associated Press. All rights reserved. This material may not be published, broadcast, rewritten or redistributed. We strive to uphold our values for every story published.