RIVER FALLS, WIS. — With Priest Holmes showing no ill effects from the hip injury that cut short his 2002 season, the biggest question surrounding the Kansas City Chiefs' running game is: Who will be the backup?
The Chiefs drafted former Penn State standout Larry Johnson in the first round of the draft in April, but at this point in training camp Johnson is listed behind Holmes, Derrick Blaylock and Jarmar Julien on the depth chart. Rookie free agent Henri Childs is also in camp.
Coach Dick Vermeil said Thursday the battle to back up Holmes was still wide open.
"Our backup running back is probably going to be between four guys," Vermeil said. "Derrick Blaylock, Jarmar Julien, Larry Johnson, it could be any one of those guys."
Also in the mix are fullbacks Tony Richardson and Omar Easy.
Vermeil said he had been impressed with Blaylock's performance in camp.
"He is tough, one of the tougher football players we have on our roster," Vermeil said. "He's a tough guy with a big smile."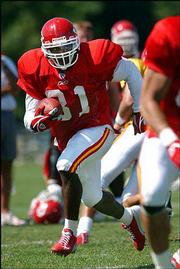 Julien didn't play in Monday night's 9-0 victory over Green Bay in the storm-shortened Hall of Fame Game but is expected to see extended time at running back against the San Francisco 49ers Saturday night. He took a few snaps during Thursday's practice at the fullback position.
Vermeil also liked the way Easy played Monday in place of Richardson, who's been sidelined because of a thumb injury since the first week of training camp. Vermeil said Easy, a second-year player out of Penn State, had come a long way in a year.
"Last year it was 'Omar Difficult' and this year it's Omar Easy," Vermeil said. "Everything was a problem for him. Now he's so much more aware."
Vermeil said he had no plans -- yet -- to rush Johnson, the 2002 Doak Walker award winner as the nation's top collegiate running back.
"In essence, we're going into our first preseason game like everybody else right now," he said. "I'm not going to panic. I told everybody that we're going to bring Larry Johnson along slowly and that's what we're going to do. But we'll be putting some more pressure on him soon."
Notes: The Chiefs worked out former University of Minnesota punter Preston Gruening Thursday morning. Gruening led the nation in punting as a sophomore in 2000 with an average of 45.2 yards per punt and was a finalist for the Ray Guy Award that year. His average dipped to 41.4 as a junior and 40 last season. ... Chiefs free safety Jerome Woods returned to the practice field for the first time in over a week Thursday and is expected to see action Saturday night against 49ers. "He said he felt a little rusty and I said, 'Heck, that's the steel rod in his leg,'" Vermeil said. "I think he'll probably get in some snaps (Saturday)."
Copyright 2018 The Associated Press. All rights reserved. This material may not be published, broadcast, rewritten or redistributed. We strive to uphold our values for every story published.