Kansas University's James Naismith court is undergoing a facelift.
Workers began sanding the basketball hardwood at tradition-rich Allen Fieldhouse Saturday and will continue painting and sanding through Labor Day weekend, with the court likely available for KU men's and women's pick-up games by Sept. 2.
The season begins Oct. 17 with Late Night With Bill Self.
"Start to finish it'll take 30 days," said Brad Nachtigal, KU director of facilities and events said. "This is the (only) time of the year to do it. We had a camp canceled in early August and were able to get a couple days head start on the project."
The Fieldhouse is not only used during the school year by the men's and women's hoop teams, but is used for basketball and volleyball camps during the summer.
An outside vendor was hired to sand the court and apply two coats of sealer, Nachtigal said. Painting will be done by in-house designers D.W. Acker and Nate Hofer.
The court, which last was painted in 1998, will feature a massive Jayhawk at center court instead of the state of Kansas, which was a Roy Williams addition in 1998.
"The Jayhawk will be 18 to 20 feet tall in the middle of the court where the state was," Nachtigal said, noting the basketball staff and athletic director Lew Perkins were presented close to 10 design options to choose from.
"We'll have a computer cutout of patterns. They (Acker and Hofer) will put a big pattern on the court, peel off and paint. It's a detail-oriented process with airguns and masking and patterns."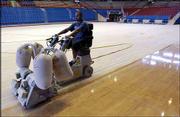 ¢
Visits:
It could be a busy fall for campus visitors at KU.
Three prep basketball recruits told rivals.com analyst Shay Wildeboor Monday they are planning September or October visits to KU.
They are: Al Horford, 6-foot-8, 210 pounds from Grand Ledge, Mich.; Russell Robinson, 6-1 from New York and Jason Horton, 6-1 from Cedar Hill, Texas.
Horford is considering KU, Florida, Michigan, Xavier, Michigan State and Ohio State. He is the son of former NBA player Tito Horford.
Robinson is considering KU, Georgia Tech, UConn, Kentucky, Florida State and St. John's.
Horton is down to KU, Missouri, Arizona State and Arkansas. MU is his favorite.
Others who are expected to visit KU: A.J. Price, 6-1 from Amityville, N.Y.; Alexander Kaun, 6-11 from Siberia, who currently lives in Melbourne, Fla.; Malik Hairston, 6-6 from Detroit; Josh Wright, 6-1 from Utica, N.Y.; Shane Foster, 6-6 from Kenner, La.; A.J. Ratliff, 6-2 from Indianapolis; Kyle Lowry, 5-11 from Philadelphia and Quentin Thomas, 6-4 from Oakland, Calif.
KU has received a commitment from Darnell Jackson, 6-9 of Midwest City, Okla., and has two scholarships to give in recruiting.
¢
Critical coach:
Williams remains critical of the way the Matt Doherty situation was handled at North Carolina. The former KU assistant resigned under pressure after his third season at his alma mater.
"I didn't like it, and it made me wonder if I wanted to be involved (at Carolina)," Williams said in an espn.com report. "Matt wants me and the players to succeed, and his wife feels the same way. But they went through a traumatic experience and there's going to be rough feelings. I love him to death, and I told the AD and the chancellor that it wasn't handled too well."
Copyright 2018 The Lawrence Journal-World. All rights reserved. This material may not be published, broadcast, rewritten or redistributed. We strive to uphold our values for every story published.