Junction City — A long-distance wedding almost fell through because nobody told the judge all the details.
Everything was ready Wednesday afternoon at the Geary County Courthouse for Rebecca Lyn Mitchell to marry Sgt. 1st Class Chad Aldridge in a cell phone ceremony.
Aldridge, 29, was in Iraq with Fort Riley's 977th Military Police Company.
Six maids of honor were on hand. The paperwork was ready to be signed. A replacement bouquet of red roses was delivered after the first one was held up because of vehicle trouble.
But then Judge Larry Bengtson said he couldn't perform the ceremony because he hadn't been told the groom was in Iraq and the ceremony would be done by cell phone.
"They weren't going to let me do it," Mitchell, 24, told her maids of honor after stepping out of the judge's offices, sobbing and wiping away tears.
But Bengtson relented and said he could perform the ceremony when Aldridge called, if he was convinced that's who it was.
The call was set for 5 p.m. Junction City time -- 1 a.m. in Iraq. The call from Chad came, but the signal kept fading as everyone waited.
One maid of honor gave him another number to try. That signal came in clearly, and everyone shuffled into the courtroom. Bengtson was satisfied that the person on the other end of the line was Chad. Then, passing the cell phone between himself and the bride, Bengtson married the couple.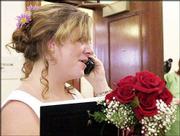 Copyright 2018 The Associated Press. All rights reserved. This material may not be published, broadcast, rewritten or redistributed. We strive to uphold our values for every story published.