Washington — Majority Republicans claimed progress on economic, health and energy legislation as a fractious Senate began its summer recess Friday. Democrats agreed there was movement but said it was largely in the wrong direction.
A week after the House left until September amid bristling partisan tensions, senators also exited in an ornery mood. That boded ill for autumn, when Congress faces work on major bills buffeted by intensifying pressures from next year's presidential and congressional elections.
Senate GOP leaders marked their chamber's departure by declaring victory, or at least progress, in several areas. Their long checklist included the spring enactment of President Bush's tax-cut package and passage of initial bills to create Medicare prescription drug benefits, overhaul energy policy and ban a rarely used medical procedure that opponents call partial-birth abortion.
"It has been a remarkable seven months in that we had a number of goals, we set out an agenda and we are right on track to accomplishing that agenda," said Senate Majority Leader Bill Frist, R-Tenn., whose party controls 51 of the Senate's 100 seats.
Partisan claims
Democrats said GOP-written legislation had been deficient or even damaging. Left in its wake, they said, was an economy that keeps shedding jobs, record federal deficits approaching half a trillion dollars, and insufficient financing for schools, local emergency workers and airport security.
"That is not a record of accomplishment," Senate Minority Leader Tom Daschle, D-S.D., said in a written statement. "We urge the president to use his leadership and tell Republican leaders to put aside their divisive partisan agenda and work on the real and urgent issues facing our nation."
Also approved since January: 11 overdue spending bills for the government's current budget year; nearly $80 billion for the war in Iraq and the campaign against terrorists; extended jobless benefits; expanded tax breaks for charitable giving; and an "Amber Alert" bill to help spread information about missing children.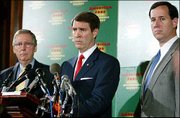 Democrats say the year has been more noteworthy for what they see as the GOP's formula for economic recovery: tax cuts for the wealthy. They say Republicans have blocked efforts to raise the minimum wage, and money in the works for education, the disabled, AIDS help overseas and port security will be less than promised in earlier bills that GOP leaders ballyhooed.
While short of the theatrics that saw physical threats exchanged between members of a House committee before that chamber adjourned, the Senate's last days were colored by prickly partisanship.
Long-running disputes about several of Bush's judicial nominations exploded into GOP accusations that Democrats were displaying prejudice against Roman Catholics. Democrats called that offensive.
Issues ahead
The Senate overwhelmingly approved an energy bill Thursday night written by Democrats last year when they controlled the chamber. The GOP's own bill had bogged down, and party leaders said the strategy would let them begin writing a compromise with the Republican-run House that would be to their and Bush's liking.
Also awaiting House-Senate bargainers are the Medicare and abortion procedure bills and another measure that would make more poor families eligible for the expanded child tax credit enacted in May. Of those, only the abortion legislation is considered certain to reach Bush's desk for signature.
"If Medicare isn't done this year, I don't think it gets done next year," Sen. Rick Santorum of Pennsylvania, the No. 3 Senate GOP leader, told a group of reporters. "It becomes too much of a political football."
Santorum said Congress wouldn't adjourn for the year until Thanksgiving, and few dispute that.
Judgeship fights are sure to continue, with both sides vowing to stand firm. And lawmakers have yet to send Bush any of the 13 annual spending bills that finance federal agencies, with the government's new budget year beginning Oct. 1.
Copyright 2018 The Associated Press. All rights reserved. This material may not be published, broadcast, rewritten or redistributed. We strive to uphold our values for every story published.