Louisville, Ky. — It looks as if the Derby Jinx might have struck early this year. And it looks as if Bob Baffert will need all the luck he can get.
Favorite Empire Maker has a bruised foot, a minor injury that could change the outlook for Saturday's race. Trainer Bobby Frankel said his colt still would run, but the odds could change dramatically when entries are taken today.
Until the bruise on Empire Maker's right front foot was disclosed Tuesday, Churchill Downs oddsmaker Mike Battaglia was set to install Empire Maker as the strong 6-5 favorite.
"Now I'll go by what Bobby says," Battaglia said. "If he says it's nothing to worry about, he'll stay there. If he says he'll run but there are some concerns, then I'll raise the line.
"And if he says he's out, I'll have to change everything."
Baffert may be changing a few things now that Kafwain is out with a strained ligament in his right front leg following a workout. The colt won four of 11 starts and was third in the Santa Anita Derby on April 5, his last race.
That leaves Baffert, who won his third Derby with War Emblem last year, with one Derby starter -- long shot Indian Express
"At least I've got the Panamanian youth," he said, referring to Indian Express winning his first two starts in Panama.
Baffert's top Derby prospect is long gone. His 2-year-old champion Vindication was knocked off the trail in February with an injury.
The Derby Jinx appeared in Frankel's barn four days before a race that has been unkind to favorites since the early 1980s.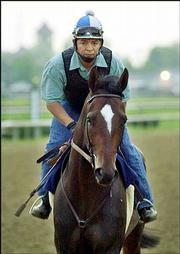 Still, he was upbeat.
"You can never be 100 percent sure in this business, but I'd say I'm 98 percent sure he'll be all right," said Frankel, who also trains Derby contender Peace Rules. "But it's the Derby, you know, so what are you going to do."
After Spectacular Bid won as the .60-1 favorite in 1983, only one other favorite -- Fusaichi Pegasus at 2.30-1 in 2000 -- has reached to the winner's circle.
In 1992, favorite A.P. Indy was scratched early on race day with a bruised foot. In 1996, Unbridled's Song finished fifth as the 3.50-1 favorite after being fitted with a special shoe to protect a bruised foot.
After Empire Maker completed his final Derby workout Monday, Frankel said the most dangerous work was finished.
But Tuesday morning, after returning from a one-mile jog with Peace Rules, the colt's injury was discovered. That's when Frankel asked Dr. Ken Reed to take a look at Empire Maker.
"My vet doesn't think it's a problem," said the Hall of Fame trainer, looking for his first Derby win. "He recommended I walk him another day. He thinks that will take care of it."
With Empire Maker nicked and Kafwain out, trainer Tom Amoss said he would enter Lone Star Sky in the Derby.
Copyright 2018 The Associated Press. All rights reserved. This material may not be published, broadcast, rewritten or redistributed. We strive to uphold our values for every story published.