Dublin, Ireland — Tens of thousands of Irish Republican Army supporters assembled Sunday across Ireland to commemorate a long-ago rebellion -- and to debate the tough choices they face today in Northern Ireland peacemaking.
Rallying in cemeteries where generations of Irish rebels were buried, leaders of the IRA-linked Sinn Fein party in 15 cities and towns insisted their movement shouldn't be blamed for a deadlock over the British territory's 1998 peace accord.
An accompanying message from IRA commanders, read by masked men at a few rural rallies, urged supporters to be patient and await publication of their next statement, which Britain and Ireland already have seen in private and rejected as inadequate.
Although the IRA largely has been sticking to its 1997 cease-fire, it has remained active on several fronts since 1999, when Protestants of the Ulster Unionist Party agreed to share power with Sinn Fein in a wider four-party administration.
The IRA was supposed to have disarmed completely by mid-2000 as part of the 1998 deal. Britain stripped the administration of its powers in October, when police found evidence that an IRA spy ring had infiltrated it.
The Irish government, which held its own Dublin ceremony to commemorate the Easter 1916 rebellion against British rule, said the IRA must clearly say whether it would disarm fully and abandon threatening activities.
Prime Minister Bertie Ahern said the IRA's position had undermined Protestant willingness to work with Sinn Fein. He said a new British-Irish peace plan would not be published until the IRA renounces violence and resumes its disarmament.
"Democratic politics and continued paramilitarism simply do not mix," Ahern told the annual Easter rally of his ruling Fianna Fail. The party was formed by the most hard-line IRA leaders of the 1920s but eventually renounced violence.
Ahern said his government had spent grueling weeks trying to persuade Sinn Fein and IRA leaders to deliver "a definitive end to IRA activities and capability."
If that didn't happen, he said, "then I think we have a big problem."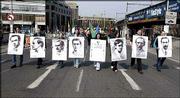 At risk is a planned May 29 election to Northern Ireland's legislature, which was suspended by Britain in October just like the power-sharing administration. Sinn Fein wants the election to proceed.
In its Easter statement, the IRA sought to soothe supporters' fears that the group was contemplating a wholesale surrender of its stockpiled weapons, most of which came from Libya in the mid-1980s and have been painstakingly hidden.
"We know that republicans will understand the sensitivities of the current situation," the IRA said. "We will speak for ourselves at the appropriate time. This is a period for republicans to remain resolute."
Sinn Fein leader Gerry Adams accused Britain, Ireland and the Ulster Unionists of demanding too much from the IRA.
The Easter 1916 rebellion involved about 1,500 rebels seizing key British government buildings in Dublin. Troops routed the unpopular rising within a week, but support for the rebels swelled after the British executed 15 commanders.
A 1919-21 guerrilla war by the original IRA produced a treaty with Britain that gave most of Ireland independence but confirmed that Northern Ireland, with its British Protestant majority, would remain part of the United Kingdom.
Copyright 2018 The Associated Press. All rights reserved. This material may not be published, broadcast, rewritten or redistributed. We strive to uphold our values for every story published.