When Kathy Coffey signed on to work for Kansas University 23 years ago, she liked the security of working as a state civil servant.
She still does -- enough that she's urging her colleagues to vote against a proposal that would abandon the civil service system for the possibility of receiving better pay for classified employees.
"They're touting the civil service system as being a bad thing," said Coffey, who works in the sheet metal shop. "We knew what it was before we came in. It's a structure we're familiar with, which is better than climbing into a pit where we don't know what's there."
KU's classified employees will vote beginning this week on what Classified Senate leaders are calling an "alternative to civil service," which would allow KU to use extra money -- such as funds gathered from tuition increases -- for pay raises.
Two-thirds of money allowed for pay increases would be given to all workers who receive a satisfactory evaluation. The other third would be given to department heads to distribute on a merit system to employees who have exemplary evaluations.
Classified employees currently are paid directly by the state with step increases based on longevity for employees who perform adequately.
Ola Faucher, KU's director of human resources, said the proposal would keep classified employees in the Kansas Public Employees Retirement System, retain their sick leave and vacation time, and keep insurance benefits at the same level.
'Double-edged sword'
Kathy Jansen, Classified Senate president, said the proposal offered staff members a chance for larger raises that the state hadn't provided in recent years.
Classified employees have long complained their pay scale lagged behind those of similar workers in other states. A study by the Kansas Council of Classified Senate showed the average employee at KU made $26,188 a year, about $4,000 less than the statewide average for classified employees. About 150 KU employees make $8.51 or less per hour, which is the federal poverty line for a family of four.
Recent increases for classified employees have lagged behind those of faculty. Classified employees have received an average of 2.95 percent annual increase in pay in the last 10 years, about 1 percent less than faculty. However, unclassified employees have lagged behind both groups at 2.9 percent.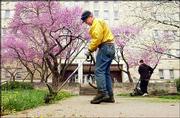 The KU Classified Senate began discussing a new system after KU planned to allocate part of the money from tuition increases for salary increases for faculty and graduate assistants.
About 600 of KU's approximately 1,500 classified employees attended a series of meetings to discuss the proposal.
"I really don't think we'll do worse (under a different system)," Jansen said. "I really don't think so. But as far as absolutely, positively guaranteeing it in stone, we can't do it."
That has Coffey concerned. She said she'd rather take the stability of being in the civil servant system -- which limits the instances an employee can be fired or have pay or benefits slashed -- over the prospect of bigger raises.
Coffey said there was always the possibility employees would be paid less under a different system.
"This has a double-edged sword, and somebody's going to get hacked," she said. "I'd rather have job security than have a pot of money out there."
George Cone, assistant director of KU's mechanical system, said he didn't trust KU administrators not to have "massive layoffs" if they had total control of the classified employee system.
"It's got a lot of people worried," he said. "A lot of people up here don't trust the university. There are certain guidelines in civil service that actually protect people. With this, you might be here one minute and gone the next."
But Faucher, the human resources director, said the only difference people would see was more money.
"There are no guarantees," she said, "but it allows us the flexibility to reallocate money internally and gives us the option to have better salary increases. Now, there's no ability to do that."
'A hope'
Ballots will be sent to classified employees Wednesday via campus mail. They'll be due back May 5.
If the plan is approved by employees, KU administrators have said they'd endorse it to the Kansas Board of Regents. It also would require approval by the Kansas Legislature.
Faucher said the earliest the system would be in place would be fiscal year 2006, which begins July 1, 2005.
Jansen said she thought the vote would be close. She also said she understood the concerns voiced by those in favor of staying with civil service.
"The trust issues are always there," she said. "The fact is this is a real departure for many of us from the culture of civil service. But this is a hope to make things better."
Copyright 2018 The Lawrence Journal-World. All rights reserved. This material may not be published, broadcast, rewritten or redistributed. We strive to uphold our values for every story published.