Women still were leading the march and shouting the chants, but this year -- for the first time -- men were there to offer some silent support.
About 15 men joined more than 100 women Friday in Lawrence in the annual Womyn Take Back the Night, part of an international event aimed at empowering women and ending violence against them.
The men's presence was a result of last fall's community forum on how to incorporate both genders into the event as the face of feminism continues to change.
Quietly, the men brought up the end of the parade down Massachusetts Street in the heart of downtown.
They carried a sign that read "Silence against Violence."
And they said they felt good about participating -- despite emotional debate regarding their inclusion in the event.
While no division is good division, Kansas University junior Dylan Desmond said he understood the desire by some to maintain the event's focus on women by keeping men fairly uninvolved.
"I'm really glad they let men show up," he said. "I believe a feminist issue is very much also a male issue."
The compromise did not go as far as some in other cities where the word "womyn" has been dropped from the event title altogether. Nor did it join men and women into an all-sexes "survivor circle," a place where stories of rape and abuse are aired.
But most attendees said they felt the compromise was a good one that represented divergent opinions and the evolution of the event.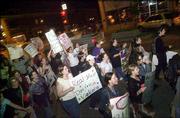 Buttons that read "This is what a feminist looks like" are being distributed on KU's campus, said Kristina R. Kuzmich, a KU senior, and they aren't just for women.
"We don't want a matriarchy," she said.
But at the same time, statistics show that women are still overwhelmingly more affected by domestic violence and sexual abuse, issues that Take back the Night tries to address.
"It kind of gets into this whole thing of who's this for anymore?" she said.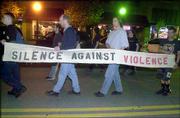 In last fall's debate, many people argued that Take Back the Night was one time during the year when women could join together and talk comfortably about nightmarish pasts, said Lea Carland, who helped organize the event sponsored by the Womyn's Empowerment Action Coalition (WEAC).
Yet at the same time, she said it was not good to alienate men who were increasingly allies of women by making them feel unwelcome.
The one male member of WEAC, Luke Middleton, said he was pleased with the outcome.
"It's part of a progression," said the KU graduate student from Wichita.
And asked if ideally the survivor circles would also one day be joined, he had a simple answer: "Ideally there would be no circles."
Copyright 2018 The Lawrence Journal-World. All rights reserved. This material may not be published, broadcast, rewritten or redistributed. We strive to uphold our values for every story published.