Melodie Christal knows what volunteers will pick up Saturday when they swarm downtown for an Earth Day cleanup.
"We'll pick up handfuls of cigarette butts," said Christal, co-director of Downtown Lawrence Inc. "They sit in the planters and on the cracks."
The downtown cleanup is one of several events scheduled for Earth Day, which officially is Tuesday.
Christal said people would gather from 7 a.m. to 9:30 a.m. Saturday to pick up trash. Workers will be on each block of downtown handing out trash bags, but volunteers are encouraged to bring brooms or other tools.
"We think it's a great way to celebrate Earth Day," Christal said. "It's only a few hours, so it won't take up your whole weekend."
Kansas University's department of environmental stewardship also has scheduled a cleanup on campus beginning at 1 p.m. Saturday at Wescoe Beach.
One of the Earth Day highlights will be the annual Earth Day parade, which begins at 11 a.m. Saturday at 11th and Massachusetts streets and travels down Massachusetts Street to Seventh Street.
The parade will be followed by an Earth Day celebration from noon to 4 p.m. in South Park. It will feature music, environmental booths, food and children's activities.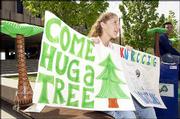 "People should celebrate the environment, and celebrate trying to conserve it," said Shane McCall, a KU senior from Kansas City, Mo., and president of the Environmental Studies Student Assn. "It can be fun. Environmentalism gets seen as all negative. This is a fun way to celebrate what we have, the things the environment provides for us."
Other Earth Day events include:
Guided walks and other activities, 10 a.m.-4 p.m. Saturday, Prairie Park Nature Center, 2730 Harper St.
Environmental Fair sponsored by Student Union Activities at KU, 11 a.m.-3 p.m. Tuesday, Kansas Union.
"The Paving of America," speech by author James Kunstler, 5 p.m. Tuesday at the Lawrence Public Library and 8 p.m. Tuesday at the Kansas Union.
Clinton Lake Cleanup, 9 a.m.-1 p.m. April 26, meet at Overlook Park Shelter 1.
Copyright 2018 The Lawrence Journal-World. All rights reserved. This material may not be published, broadcast, rewritten or redistributed. We strive to uphold our values for every story published.