Chicago — Umpire Laz Diaz was attacked by a fan who came out of the stands during Tuesday night's game between the Kansas City Royals and Chicago White Sox in a frightening reminder of what happened near the same spot last year at Comiskey Park.
"I'm physically OK," Diaz said after the Royals won 8-5. "I think you should talk to the other guy and see how he's feeling."
Immediately after Carlos Lee flied out to end Chicago's eighth inning, a man ran on the field and tried to tackle Diaz, wrapping his arms around the first base umpire's legs.
Security and players rushed to the aid of Diaz, who served in the U.S. Marine Corps Reserve. The fan was quickly taken away.
"When I looked over, there was one of the fans from the stands and I just got him off me," Diaz said. "I just turned around and got him off me. The good hand-to-hand combat they taught me worked."
It was the first appearance by the Royals in Chicago since former first base coach Tom Gamboa was pummeled by a father and son who came out of the stands last September.
Before this game, Gamboa tried to downplay his return to the field where he was attacked seven months ago.
"I haven't given it a thought really," Gamboa said at the time. "Lightning doesn't strike twice."
But it did -- about 100 feet from where Gamboa was attacked last Sept. 19. And it happened at the ballpark where the All-Star game will be held this summer.
"We spoke about it in the locker room, this is where Tom Gamboa got attacked. We thought nothing was going to happen, but it was full moon out there," Diaz said.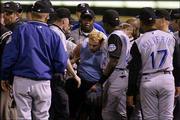 Gamboa is now the Royals' bullpen coach.
continued from page 1c
"I think people just have too much to drink," Gamboa said. "I can't imagine what causes it. Two good teams playing a heck of game tonight and it's a shame that that takes away from that."
"We are playing awesome and it is a shame that these off-the-field incidents take away from what we are trying to do."
A night earlier in San Juan, Puerto Rico, two fans ran on the field and unfurled an antiwar banner as security was slow to react. Baseball spoke with local police Tuesday and said there would be a quicker response in the event of further trouble.
Tuesday night's game in Chicago had been delayed three times when fans ran onto the field before being tackled by security guards. All three of those fans were charged with trespassing, the White Sox said.
"It's sad that it happened, and happened when it did. Something has to be done to put a stop to it because it becomes somewhat unsafe," White Sox manager Jerry Manuel said. "It's unfortunate that it seems to happen when Kansas City comes to town."
In a statement, the White Sox said: "The behavior of four people attending tonight's game was reprehensible and will not be tolerated. They will be prosecuted to the fullest extend the law allows. The actions of four idiots in no way reflects Sox fans or the fans of Chicago."
The ballpark, which had been called Comiskey Park, was renamed U.S. Cellular Field before the start of this season. It will host the All-Star game July 15.
Royals right fielder Brandon Berger was one of the first to get to Diaz's aid. Berger, who had caught the ball for the final out of the inning, knelt down and appeared to punch at the fan, who was on the ground with his arms wrapped around Diaz's ankle.
"You catch the ball, you look down and a guy's getting tackled and it's like, 'What's going on?' He hit him around the legs, but he never brought him down," Berger said.
When: 7:05 tonight.Where: U.S. Cellular Field.Television: None.Pitchers: Runelvys Hernandez (3-0) vs. Jon Garland (0-1).K.C. record: 11-1.
"I'm glad somebody stepped in," Royals manager Tony Pena said. "This happens in baseball, what can I say? People have a couple of drinks, they do what they want to do. This won't be in the back of our minds tomorrow."
Royals DH Ken Harvey rushed to Diaz's aid. He said the fan wasn't talking as he was pulled off.
"I didn't hear him say anything. I don't think he could, he was getting whupped," Harvey said.
"It's crazy, man. Hopefully, they get it under control. More security, or don't sell beer for a month. This doesn't happen in other places. Why does it happen here?" he said.
Mike Sweeney hit a two-run homer and Berger hit a two-run single in the ninth as the Royals rallied, raising their record to 11-1.
Billy Koch (1-1) took the loss after blowing the save. Albie Lopez (2-0) got the win.
The benches emptied in the first inning when Royals starter Miguel Asencio hit Frank Thomas with a pitch for the second time this season. No punches were thrown.
Frank Thomas homered in the bottom of the eighth to give the White Sox a 5-4 lead. In the Royals ninth, Sweeney homered and Berger hit a two-run single.
With Jose Valentin at first after a walk in the first inning, Asencio plunked Thomas in the left elbow with a pitch.
Thomas, who'd been drilled in the same spot by Asencio in the third game of the season at Kansas City, took exception and took a couple of steps toward the mound, shaking his bat at the young pitcher.
Catcher Brent Mayne and plate umpire Dale Scott stepped in front of Thomas as the benches emptied before an angry Thomas finally went to first base, where Sweeney tried to calm him down.
Copyright 2018 The Associated Press. All rights reserved. This material may not be published, broadcast, rewritten or redistributed. We strive to uphold our values for every story published.