For years, cancer patients living in Lawrence and Douglas County had to travel to Topeka or Kansas City to get radiation therapy.
But in a couple of months, that's going to change.
By midsummer, Lawrence Memorial Hospital plans to complete a two-story, 16,000-square-foot addition to the south side of the Lawrence Health Plaza. The cost of the addition is about $4 million.
Nine thousand square feet of space on the addition's first floor will serve as an expansion of the hospital's 3-year-old Oncology Center, housing a linear accelerator and more examination and treatment space for both the medical and radiation oncologists. (The second-floor space will be used for future expansion.)
That means cancer patients in Lawrence and surrounding communities will be able to receive high-quality radiation therapy at LMH.
"This is significant because, to date, radiation oncology has been the missing piece in order to complete our vision of a community cancer center. We have wonderful, medical oncology staff and surgeons, but in order to offer full treatment options, radiation is imperative," said Gene Meyer, the hospital's chief executive officer.
Having a linear accelerator -- a machine used to administer radiation therapy -- in Lawrence with a trained staff to run it will help reduce stress for cancer patients in the area.
"The physical impact of radiation, if one has to travel great distances for it, creates an almost overwhelming impact on the oncology patient," Meyer said.
According to Pat Parker, director of the Oncology Center, the three major components to cancer treatment are surgery, medicines and radiation therapy.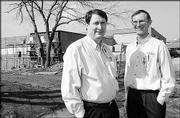 Having the linear accelerator will supply the component LMH has been unable to offer.
"I think it's an extraordinary benefit. We will be able to provide all three types of cancer treatment in Lawrence. Right now, anybody who needs radiation therapy has to drive to Topeka or Kansas City. They're going to be able to be treated right here, closer to home," said Parker, who is also director of pharmacy, intravenous therapy and medical oncology services at LMH.
LMH will contract with Radiation Oncology Associates of Kansas City, a partnership that will provide an on-site radiation oncologist and other professional staff to operate the specialized equipment.
The construction cost to build the addition is about $2.5 million.
The eight-member group of board-certified radiation oncologists from the Kansas City area will contribute just over $1 million to pay for the linear accelerator vault and the addition's tenant-finish costs.
LMH, as the project's long-term financier, will provide about $1.5 million to construct the addition to the Oncology Center.
"The main point I would make about the Oncology Center is that it's a local program whose intent is really to provide an exceptional, full gamut of care here," Parker said.
"Everybody can provide high technology, and we know that we need to do that. But we want to offer it in a way that reflects our values and our care for the people that live in our community. You're not a number here."
Copyright 2018 The Lawrence Journal-World. All rights reserved. This material may not be published, broadcast, rewritten or redistributed. We strive to uphold our values for every story published.