Travelers on the Kansas Turnpike soon could be getting their toll tickets from machines rather than humans.
The Kansas Turnpike Authority said Tuesday that it would be installing the ticket-issuing machines at most of the toll plazas, including those in Lawrence, within the next several months.
Turnpike officials said the machines would help reduce costs.
"They'll be up and down the turnpike, but not at every plaza, and they won't be in every lane at every plaza," said Lisa Callahan, a KTA spokeswoman.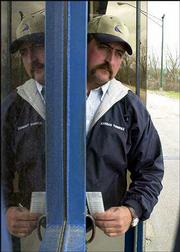 Callahan said none of the toll collectors would lose their jobs because of the machines. She said positions have been left open from retirements and turnover in anticipation of bringing the machines on board.
"It's a project we've been working on for a long time, and we've anticipated these machines for a long time so we wouldn't have to lay anyone off. There may be some part-time employees who have reduced schedules, but there will be no full time employees who will be laid off," she said.
And, she says, humans will continue to collect the toll fees even when machines dispense the toll tickets in much the way of semi-automated parking garages. Of the 320 toll collectors, 120 are part-time employees, including many in Lawrence who are Kansas University students.
In the past year, two ticket-issuing machines have been used on the turnpike as an experiment. One was in installed in Topeka in 2001 when the new east interchange was opened and one was in Wichita for the past half-year. Callahan says the machines, called DATIM for Dual Automatic Ticket Issuing Machine, are a success.
The DATIMs will be installed in 16 of the 21 toll plaza locations along the 236-mile turnpike.
Callahan assured motorists that if they need assistance, a KTA employee will always be on hand at any of the entrances and exits. A button is located on the machines to alert a collector that help is needed, she said.
Copyright 2018 The Lawrence Journal-World. All rights reserved. This material may not be published, broadcast, rewritten or redistributed. We strive to uphold our values for every story published.