Wellsville — The family of the first confirmed Kansas casualty of the war in Iraq said Friday Army Sgt. Jacob Butler died for what he believed in.
Butler, 24, was killed Tuesday in Assamawah, Iraq, when a rocket-propelled grenade hit his vehicle. Based at Fort Riley, he was a cavalry scout with the 3rd Brigade of the Army's 1st Armored Division.
Army officials arrived late Tuesday night at the Wellsville home of his parents, Cindy and James Butler, to give them the news of their son's death.
Speaking on behalf of the family Friday morning, Staff Sgt. Sheldrick McNeal, of Fort Leavenworth, said the family believed Butler died for the freedom of other countries, as well as his own.
"The loss to them is great," McNeal said. "They appreciate all the support they have received from the military, family and friends."
McNeal said Butler left behind four brothers, two nieces and one nephew.
Butler joined the Army in 1998 and was stationed in Fort Hood, Texas, said his twin brother, Joe Butler. In November 2001, he was transferred to Fort Riley.
"I know for a fact that he died fighting for our freedom and doing something that he loves to do," Joe Butler said Wednesday.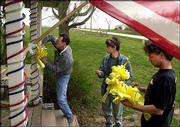 McNeal said Butler's parents were not ready to publicly discuss their son's death, but he indicated they would be willing to do so in the future.
Butler graduated from Wellsville High School in 1996. Most in the Franklin County town of 1,600 residents about 24 miles southeast of Lawrence, knew him as Jake.
Randall Renoud, Butler's high school assistant principal, said the soldier's death made residents realize that common Americans were on the front lines fighting for the country.
Renoud said Butler was "an All-American kid who gave his all for America, and I don't know that you can ask for any more than that."
While Butler is the state's first confirmed casualty, another Kansan -- Army Pfc. Patrick Miller, 23, of Park City -- is listed as a prisoner of war after being captured March 23. He was part of the 507th Ordnance Maintenance Company, which was ambushed by enemy forces in Iraq.
Copyright 2018 The Associated Press. All rights reserved. This material may not be published, broadcast, rewritten or redistributed. We strive to uphold our values for every story published.