U.S. Army Capt. Brad Loudon had to trek through the Iraqi desert with a 60-pound backpack, but he found room to carry one extra item with his gear -- a giant KU flag.
Loudon e-mailed a photo to his friends Friday morning showing himself, dressed in combat fatigues, holding the crimson-and-blue flag in front of a wall-tile portrait of Saddam Hussein.
"Carrying the flag to Iraq will tell you the kind of fan he is," said Jason Zuba, who was a Sigma Phi Epsilon fraternity brother of Loudon's at Kansas University. "He's fighting for his life, yet he can't wait until tipoff."
His friends and family said they thought Loudon, an Overland Park native who graduated from KU in 1997, was in or near Baghdad with the 2nd Battalion, 70th Armored Regiment from Fort Riley. His tank regiment has split, with half in Carbala and the other half at the Baghdad airport, said his father, Byron Loudon of Overland Park.
But Byron Loudon said he knew his son's heart was with the Jayhawks, even though he's half a world away from New Orleans and KU's Final Four game.
Brad Loudon is a lifelong KU fan. As a junior-high student in 1988, he and two friends went to an Overland Park hotel to finagle NCAA championship tickets from dejected Duke fans who were heading home after their team lost, his father recalled.
Loudon, 28, also attended all of KU's NCAA Tournament games last year. And he was celebrating KU's win over Iowa State Feb. 16 at a local bar when he got a cell phone call summoning him to Fort Riley for war duty.
Kevin Konen, of Kansas City, Kan., another of Loudon's Sigma Phi Epsilon brothers, said he woke Friday morning to see the photo of Loudon in his e-mail inbox.
"It was so awesome to open that up first thing in the morning," Konen said. "When he was packing his stuff, he must have thought, 'OK, I got my socks, my underwear, my KU flag.' I've never been in the military, but I'd think that's the last thing you'd think about."
Loudon's fiancee, Courtney Hoyt, of Overland Park, has talked to him several times from Iraq. Loudon has borrowed a phone from a Chicago Tribune reporter embedded with his unit to make the calls.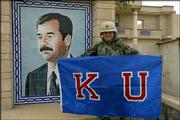 She said Loudon was able to listen to the Duke game last week.
"When he called, he's very calm, yet when it comes to KU, that's when he totally changes," Hoyt said. "He can be out there fighting the war and be very calm and nonchalant, but when he watches a KU game, he totally changes."
This isn't the first time for Loudon to receive media attention. He was on "NBC Nightly News," had his photo in USA Today and has been quoted in the Chicago Tribune.
Military service runs in the family for the Loudons. Byron Loudon, an attorney, was a Navy JAG officer from 1969 to 1972.
Brad Loudon was planning to be an Army JAG officer, too. After graduating from KU in 1997, he attended Washburn University School of Law and graduated in 2000.
But he later changed his mind and opted for a combat role.
"He said, 'I can be a lawyer the rest of my life. I want to do something exciting now,'" said Byron Loudon, who participated in a yellow-ribbon ceremony at KU Wednesday to support U.S. troops.
Byron Loudon said he knew his son had taken a U.S. flag to the Middle East, but he wasn't aware of the KU flag.
He said he hoped Brad was in a place to listen to tonight's Final Four game.
"He's a big KU basketball fan, no doubt about it," the elder Loudon said. "Obviously, he's got other commitments right now."
Copyright 2018 The Lawrence Journal-World. All rights reserved. This material may not be published, broadcast, rewritten or redistributed. We strive to uphold our values for every story published.