Washington — President Bush on Friday gave federal health officials authority to quarantine Americans sick with the highly contagious new mystery illness. Officials said there were no immediate plans to use the emergency powers.
In an executive order signed Friday, Bush added severe acute respiratory syndrome, or SARS, to the list of diseases for which health authorities have authority to hold Americans against their will.
It's the first time a new disease has been added to the list in two decades.
"If spread in the population," the order says, SARS "would have severe public health consequences."
Several diseases have long been on the list for which quarantine may be used: cholera, diphtheria, infectious tuberculosis, plague, smallpox, yellow fever and several viral hemorrhagic fevers.
Also Friday: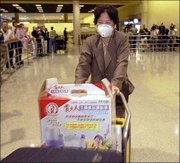 Federal researchers said they were beginning work toward a vaccine that could eventually help control SARS. They are already courting private pharmaceutical companies that might manufacture the treatments down the road.
In China, officials issued an extraordinary apology for not doing a better job of informing people about SARS. U.S. Secretary of Health and Human Services Tommy Thompson said he spoke with his counterpart in China and they pledged to cooperate in battling the outbreak.
Investigation into the disease's origins continued. International health officials were seeking the first person believed infected with SARS, a man in the hard-hit southern province of Guangdong.
SARS, whose symptoms include fever, aches, cough and shortness of breath, has killed at least 85 people in Asia and Canada and sickened at least 2,300 in more than a dozen nations as infected travelers spread the disease. In the United States, 115 cases in 29 states have been reported.
About 4 percent of the victims have died from the disease, though none of them in this country. There's no cure yet, but most sufferers are recovering with timely hospital care.
Copyright 2018 The Associated Press. All rights reserved. This material may not be published, broadcast, rewritten or redistributed. We strive to uphold our values for every story published.