New Orleans — Cajun fishing towns cleared out, Navy ships steamed out for the open sea and inland hotels began filling up as Tropical Storm Isidore strengthened Tuesday and headed toward the Gulf Coast.
The storm, which left two people dead and 300,000 homeless in Mexico's Yucatan Peninsula, moved back over the waters of the Gulf of Mexico and was expected to hit Louisiana or Mississippi with hurricane force as early as tonight.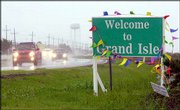 Emergency officials in Florida were watching another tropical storm, Lili, which has killed three people in the Caribbean and could strike the southern part of the state this weekend.
At 4 p.m. CDT, Isidore was about 550 miles south of New Orleans and heading north at around 7 mph. Its sustained winds, which had fallen to well below hurricane strength of 74 mph as the storm moved over land, rose to 60 mph and were expected to strengthen.
Ahead of the storm, rain lashed parts of the Gulf Coast.
The forecast track put the eye of the storm over rural Terrebonne Parish, southeast of New Orleans, early Thursday. Storm advisories stretched from Jefferson and Orange counties in Texas to Destin, Fla.
Grand Isle, an island resort south of New Orleans that has just one two-lane escape route, was placed under a mandatory evacuation at midday Tuesday. Many of the 1,500 residents were already on their way out.
While early projections indicated Isidore could come ashore as a Category 4 storm with 155 mph winds, Tuesday's forecasts were for a less powerful Category 1 hurricane with wind in excess of 80 mph.
Copyright 2018 The Associated Press. All rights reserved. This material may not be published, broadcast, rewritten or redistributed. We strive to uphold our values for every story published.