A few local historians are hoping to map out the most western route of the Underground Railroad, with the help of a $20,470 grant from the National Park Service.
And they'll be asking for public and corporate help to get it done.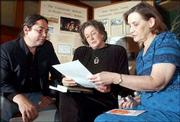 The grant to be matched with donations collected locally will be used to create a new exhibit and provide in-depth research on Kansas' role in the Underground Railroad, a secret path run by abolitionists leading slaves to freedom more than 150 years ago.
Watkins Community Museum of History, 1047 Mass., received one of 14 grants designated for "Network to Freedom" sites, a designation the Park Service bestowed upon the museum a year ago. The grant application was written by Tolly Wildcat, a local historian, and Judy Sweets, who is Watkins' collections manager.
They hope to have the display and research ready for the public in early 2004.
"We're trying to show how important Kansas was to the Underground Railroad," Sweets said. "This is the most western route that we know of and up to this point Kansas is often left out of maps and documentaries."
The grant also could help the museum tell its own valuable story, she said. The museum has operated at a deficit for at least two years, and museum leaders are looking for ways to generate income.
"I think it will help revitalize the museum," Sweets said. "Once you get one grant, it draws more."
At the heart of the exhibit will be a large painting by Lawrence artist Wayne Wildcat, who for years has wanted to create a painting of the Underground Railroad.
The Wildcats have worked with local authors on the subject, and through their own research they discovered past historians chose not to focus on the abolitionist story in Kansas, but rather a quest for land.
"It may be off track, or maybe it's right on track," Tolly Wildcat said, of learning about new sites and hoping to preserve them. "To save sites, to save some history for people to see."
Beyond providing a new exhibit for the museum, Sweets and the Wildcats hope the local "Network to Freedom" exhibit and research would draw national attention and visitors to the museum.
"I see it as an interpretive center where people can come do research, see the painting and learn more about our heritage," Sweets said.
Bob Piller, treasurer for the Douglas County Historical Society, which runs the museum, said the society would not provide any financing for the project. But he welcomes the opportunity to tell the story of the Underground Railroad.
"I think it's a worthwhile project," said Piller, who this summer took over management of a budget that has run deficits for at least two years. "We're not going to put any seed money in because we don't have it."
Copyright 2018 The Lawrence Journal-World. All rights reserved. This material may not be published, broadcast, rewritten or redistributed. We strive to uphold our values for every story published.