New York — At least the Mets got to go home winners.
Pinch-hitter Mike Piazza hit a three-run homer as the New York Mets ended their NL-record home losing streak at 15 by beating the Florida Marlins 11-5 in the second game of a doubleheader Tuesday night.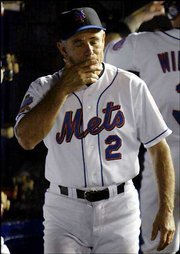 Raul Gonzalez homered and tied a career high with three hits as the Mets won for the first time at Shea Stadium since beating the Houston Astros 10-0 on July 31. Their 3-2 loss in 12 innings in the first game set the record for ineptitude at home, surpassing Boston's 14 in a row in 1911.
A host of low-paid players on the Mets $104-million payroll led New York to a five-run cushion before Piazza, who did not start the second game because of a sore left wrist, hit his 25th homer and fourth as a pinch-hitter in his career.
Pitcher Mike Bacsik got his first major league hit, a run-scoring double in the first, Joe McEwing had two RBIs and September callup Jason Phillips drove in another as the Mets battered Justin Wayne in his major league debut.
The Mets ended a five-game losing skid overall and stopped the Marlins' five-game winning streak.
Bacsik (3-1) won for the first time in five starts, improving to 3-0 against the Marlins. He gave up five runs and 10 hits in 7 2-3 innings.
The Mets took the field for the second game to a chorus of boos that swelled after New York fell behind 2-0 on back-to-back homers by Derrek Lee and Mike Lowell to start the second inning.
But the Mets quickly turned around the 21,007 fans less than 500 saw the start of the opener and just a few thousand saw the nightcap's finish by scoring three runs off Wayne (0-1) in the bottom half.
In the opener, Preston Wilson hit a tying homer in the ninth and Juan Encarnacion had an RBI double in the 12th inning.
Timo Perez's two-run homer in the third gave the Mets a 2-1 lead that stood up going into the ninth, but closer Armando Benitez gave up Wilson's 21st homer this season and seventh against the Mets.
Wilson has 18 career homers and 44 RBIs against New York.
Braden Looper (1-5) pitched the 11th for his first win since June 18, 2001, at Atlanta.
Pirates 3, Braves 0
Atlanta Salomon Torres came within two outs of a shutout in his first big league appearance since 1997.
Aramis Ramirez and Craig Wilson homered for the Pirates, who snapped Atlanta's four-game winning streak and ended their own four-game skid.
The only bright spot for the Braves: Not many fans witnessed their performance. The crowd of 18,931 was the smallest in Turner Field history.
Expos 7, Phillies 6, 10 innings
Montreal Brad Wilkerson singled home the winning run in the 10th inning and Montreal turned a triple play.
Fernando Tatis hit a three-run homer for Montreal in the second, and Andres Galarraga added another three-run shot in the sixth.
Cardinals 3, Reds 1
St. Louis Jim Edmonds hit a two-run homer and Woody Williams won for the first time in more than two months.
Edmonds had three RBIs, and Williams (7-4) allowed one run on four hits for his first victory since beating San Diego on July 1.
It was Williams' second start since his second stint on the disabled list this season for a pulled muscle in his left side.
Edmonds hit his 26th homer after J.D. Drew doubled off Jimmy Haynes (13-9) with two outs in the third.
Cubs 10, Brewers 1
Chicago Alex Gonzalez and Todd Hundley each hit a three-run homer, and Matt Clement pitched a six-hitter.
Clement (12-9) threw his third complete game of the season, striking out seven.
Dave Pember (0-1) pitched 3 2â3 innings in his major league debut, giving up three earned runs.
Dodgers 3, Diamondbacks 2
Phoenix Adrian Beltre homered for the second night in a row and Kazuhisa Ishii shut out Arizona into the sixth inning.
On the heels of their 19-1 rout of Arizona on Monday, the Dodgers won their fourth straight to pull within four games of the first-place Diamondbacks in the NL West.
Eric Gagne, the last of six Dodgers pitchers, got four outs for his 47th save in 51 opportunities.
Ishii (14-9), who had his start pushed back a few days in hopes he would regain his early-season form, won for just the second time in nine starts.
Brian Anderson (6-10) gave up Beltre's two-run homer in the first inning, then shut down the Dodgers until Paul Lo Duca's RBI double with two outs in the seventh.
Astros 6, Padres 2
San Diego Roy Oswalt dodged a bases-loaded jam in the sixth inning and won his eighth straight start.
Oswalt (18-6) was coming off a five-game suspension for throwing a pitch at Chicago's Alex Gonzalez on Aug. 12.
He won for the second straight start against the Padres, whom he beat 2-1 in Houston last Wednesday.
The right-hander started his winning streak July 27 against Pittsburgh, then won all six of his starts in August, becoming just the fourth pitcher in Astros history with six wins in a month.
Billy Wagner came in with runners on first and third struck out Julius Matos for his 31st save in 37 chances.
Giants 4, Rockies 2
San Francisco Reggie Sanders homered, Rich Aurilia drove in two runs and Russ Ortiz helped himself at the plate in another strong start.
San Francisco used five pitchers and won for the eighth time in nine games, remaining 2 1â2 games behind the Dodgers in the NL wild-card race. San Francisco moved within 6 1â2 of first-place Arizona in the NL West.
Copyright 2017 The Associated Press. All rights reserved. This material may not be published, broadcast, rewritten or redistributed. We strive to uphold our values for every story published.