Jerusalem — Israel's Supreme Court gave the army a new tool in its two-year struggle against Palestinian violence Tuesday, allowing it to expel Palestinians from the West Bank to Gaza for aiding terrorist suspects.
In the first case of its kind, the court upheld the expulsion of two relatives of a terror suspect, but overturned an order against a third person, ruling that expulsion must be limited only to relatives directly involved in terror attacks.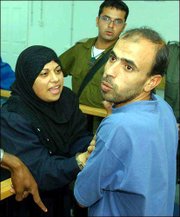 Palestinians called for foreign intervention to stop the Israeli practice, while human rights groups said it violates international law, particularly the Geneva Conventions.
In a separate development, Israeli Prime Minister Ariel Sharon dropped his earlier opposition to allowing the Palestinian parliament to convene in the West Bank town of Ramallah. The parliament is to approve the new Palestinian Cabinet and consider reform measures.
Sharon said a change is appearing among the Palestinians, who "are realizing that we cannot be defeated by force, and this can certainly be an opening to our restoring calm."
At the Supreme Court hearing, the justices approved the expulsion of Intisar and Kifah Ajouri, sister and brother of Ali Ajouri, a member of the Al Aqsa Martyrs' Brigade militia. Ali Ajouri allegedly sent two suicide bombers to Tel Aviv on July 17, and two Israelis and three foreign workers were killed in the attack.
Ali Ajouri was killed Aug. 6 in an Israeli army strike.
The court said Intisar Ajouri sewed the explosives belts for the bombers, and Kifah kept watch while his brother moved explosives between hiding places.
Copyright 2017 The Associated Press. All rights reserved. This material may not be published, broadcast, rewritten or redistributed. We strive to uphold our values for every story published.