While most of the 180 individuals entered in the 2002 Kansas State Horseshoe Pitching Championships are adults, several children under 12 are competing to the delight of their elder peers.
"I've been trying to get them encouraged," said tournament director Wynne Mihura. "Our elderly people are kind of dropping off, and that's shortening our membership for the state. If I can get the kids interested, that'd be wonderful."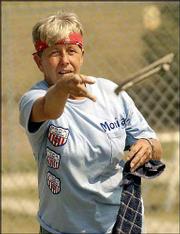 On Sunday, nine children competed in the Junior Boys Class A & B divisions. Six more are expected to compete in the Junior Boys Championship division this morning at Broken Arrow Park. Many have relatives in the tournament as well.
Brothers Chad and Kyle Bidwell of Topeka placed in the B division in this, just the second tournament they've participated in. Kyle, 12, placed first with a 5-0 record, while 10-year-old Chad placed third.
The two say their grandfather also competes in horseshoes, which piqued their interest. It's not the only thing they do, though.
"I play baseball, basketball and soccer," Kyle said.
Edwina Pickering is just a spectator this year. She's out watching her son, Ben Pickering, and her nephew, Lance Geier, compete. Ben placed fifth in the B division, while Lance competed in the A division.
"My husband plays horseshoes," Pickering said. "We have horseshoe pits at our house. They've basically been raised around them. Seeing the adults playing at the house, I think it made it easier for them to be interested."
Pickering, of Lawrence, said she's doing her part to help bring youths to the sport.
"I'm trying to get more and more kids involved," she said. "We're trying to get their friends out here and everything."
Mihura is striving for more juniors, too. She has a strategy for recruiting children to join clubs state-wide never lose sight of what it's all about.
"If I can make them feel interested," she said, "and make them feel like it's fun, that'd be terrific."
Tournament officials are pleased with the strong turnout this year of children between 6 and 12. For their efforts, the juniors receive a plaque and some new friends.
"I don't remember having many kids last year," Mihura said. "And now, here they all are at the state tournament. Isn't that great?"
Copyright 2018 The Lawrence Journal-World. All rights reserved. This material may not be published, broadcast, rewritten or redistributed. We strive to uphold our values for every story published.