San Francisco — All of a sudden, J.T. Snow cut short his practice swings and Kirk Rueter stopped shagging fly balls.
For a moment Friday, the San Francisco Giants had let their focus slip. And for good reason a fighter jet from the Blue Angels zoomed over Pacific Bell Park.
All afternoon as the Giants worked out, the Navy's flying precision team practiced around, beyond and above the ballpark. Barry Bonds launched one drive toward McCovey Cove, then stepped back to watch six F/A-18 Hornets zip into formation.
"That was pretty neat," Rueter said. "I know I wouldn't be able to go up there with them. I'd get sick."
Fortunately for the Giants, Rueter and his teammates have shown strong stomachs so far in the NL championship series.
They did almost everything right at Busch Stadium, blocking out the crowd noise and playing perfectly fundamental baseball. The result is a 2-0 lead over St. Louis going into Game 3 Saturday, when Russ Ortiz will start against the Cardinals' Chuck Finley.
Only three times in postseason history has a team lost the first two games at home and come back to win a best-of-seven series it's never happened in an LCS.
"I urge this town and everybody here not to think about us being in the driver's seat or thinking about us blowing it," Giants manager Dusty Baker said. "You just think about us playing and rooting for us each game at a time."
Cardinals manager Tony La Russa could do little except take the same approach.
"It's always important to paint your situation in a way that there's a positive slant on it so that you can think of something good happening," he said. "In this case, it isn't much of a stretch to explain to the guys that it's been hard all year, so this is."
Fueled by emotion for several months after the deaths of Darryl Kile and broadcaster Jack Buck, the Cardinals also had been able to hit their way out of slumps. But Rueter got off to a good start in the opener and Jason Schmidt was outstanding in Game 2, shutting down a St. Louis lineup that desperately misses Scott Rolen.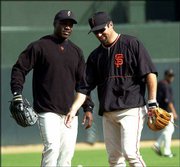 The All-Star third baseman, who sprained his left shoulder in a collision in Game 2 of the opening round, still isn't ready to play.
"He won't be in the starting lineup," La Russa said. "The day you see him taking ground balls on the field and swinging, that's when it's legitimate to ask if he's available, late in the game or might he start. But until you see him out there, he's not close."
Rolen will have plenty of company on the bench for Game 3. Non-active players, such as reliever Luther Hackman, will be allowed back in the dugout. In the postseason, each team usually has four or five such players sitting with them they were banned for Game 2 following a scuffle in the opener.
Slumping leadoff hitter Fernando Vina and Tino Martinez face the tough task of solving Ortiz, who has won eight straight starts. That impressive string counts a pair of victories against Atlanta in the division series, including the decisive Game 5.
"I think that brings more confidence, a lot more confidence, knowing that I can pitch in the postseason," Ortiz said.
Finley, a mid-season acquisition, will face a charged-up lineup that is doing everything necessary to score. Rich Aurilia put down a sacrifice bunt in the first inning of Game 1 to set up a run in a 9-6 victory and homered twice in a 4-1 win Thursday.
The Giants have scored in either the first or second inning in 13 straight games, and hope an early lead will turn into another win. No major league team has overcome an 0-3 deficit in a postseason series.
Finley said he hasn't thought much about what it would be like if he'd been sent to San Francisco instead of St. Louis.
"Obviously, the Giants are two games better than we are right now," he said. "But I've had a great time in St. Louis."
Copyright 2018 The Associated Press. All rights reserved. This material may not be published, broadcast, rewritten or redistributed. We strive to uphold our values for every story published.