Rio De Janeiro, Brazil — A Carnaval-like atmosphere gripped Brazil on Saturday, a day before national elections that could put leftist Luiz Inacio Lula da Silva in charge of Latin America's largest democracy and biggest economy.
Brazil's election has attracted world attention because of the possible election of an ex-communist leader whose Workers' Party was formed 22 years ago by militants, some of them guerrillas who were trained in communist Cuba. Da Silva and his party are vocal critics of the U.S.-backed, market-oriented economic policies that were adopted throughout Latin America during the 1990s.
Opinion polls suggest that da Silva may have enough votes to win an absolute majority today and avoid a runoff election with his closest rival on Oct. 27.
Leftists of several parties may win 25-30 percent of Brazil's congress today, and the country of 171 million appears to be tilting strongly to the left. Brazil will elect not only a president today, but also the governors of all 26 states, the entire 513-member lower house of congress and a third of the senate.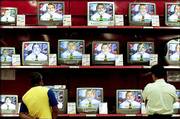 The poll suggested that 47 percent of Brazil's 115 million registered voters watched or heard part of the debate, and that da Silva's strong showing may have won over enough undecided voters for an outright win on Sunday.
In Rio de Janeiro, police and the military fanned out across the city and state on Saturday. More than 50,000 police and soldiers will be present in at least 30 communities today to ensure that warring drug traffickers don't disrupt the voting through violence or highway blockages.
Copyright 2018 The Lawrence Journal-World. All rights reserved. This material may not be published, broadcast, rewritten or redistributed. We strive to uphold our values for every story published.