Sixty-five gallons of minestrone soup and 1,200 eggs.
That's what it takes to feed the hundreds of riders who plan to participate today in the Lawrence Bicycle Club's Octoginta, an 80-mile, end-of-summer bike ride.
In its 33rd year, the event has grown to include 800 participants as it spans the weekend with a "Tour de County" ride and equipment-trading swap meet on Saturday, followed by the lengthier trek today.
And while some race to stay near the front of the pack and take the ride pretty seriously, others say it's all about enjoying the fall weather, some old friends  and a whole lot of food.
"I ride to eat," said Paul Corcoran, secretary of the bike club.
Saturday's ride around the county ended with brunch at Free State Brewing Co., 636 Mass. Even on today's more strenuous event, it's possible to gain weight, Corcoran said. The tour de food starts with the sag station sponsored by Sunflower Outdoor and Bike Shop.
There, in addition to omelets, cyclists are served French toast, pastries, coffee and orange juice.
"There are people who ride this ride just to get to the first sag and come back," said Robbie Strahm, a club member.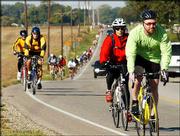 But riding a little further leads to lunch, where Strahm and her helpers plan to dip soup most of the day.
And in between it all are four or five other stations where cyclists can get fruit, cookies and Gatorade.
Rumor has it there's even champagne to be found if you have the right connections, said cyclist Leonard Krishtalka.
Today's ride starts at 8:30 a.m. at South Park and runs past Clinton Dam and through Stull before finishing at Bloomington Beach Swim Area.
The cost of food and support services are partly paid by the cyclists' entrance fees  $23 for those who wait until today to register. But it's also a source of income for the club, raising from $5,000 to $6,000 in years when the weather is good.
Many who participate in Octoginta, a name derived from Latin and Italian words to denote an 80-mile cycling tour, return year after year, figuring that where there is food, there's friendship, said former club president Jim Turner.
Krishtalka said he was usually near the front of the group with friends he regularly rides with.
Bob Conn, Overland Park, said he would be riding this year with his son.
"It's a real neat experience," he said, describing the mass of people who all take off at the same time. "It's like being in the Tour de France."
Copyright 2018 The Lawrence Journal-World. All rights reserved. This material may not be published, broadcast, rewritten or redistributed. We strive to uphold our values for every story published.