Washington — Courthouses opened their doors Saturday to let children celebrate ceremonies that made their adoptions - and their new families - a legal reality.
"If you are adopted, you are special," Washington's mayor, Anthony Williams, told about 20 youngsters who officially got new parents in the nation's capital. Williams spoke from experience: he was adopted in 1954 in Los Angeles.
The Washington children, hugging teddy bears and their moms and dads, got the good news in the capital. They were among 1,400 children who filed into courthouses from New York to Los Angeles with their adoptive families in the spirit of the Thanksgiving holiday.
"While it's cold outside, you'll find lots of warmth in here," said Judge Lee F. Satterfield of the Superior Court of the District of Columbia.
Lynnette Cole, Miss USA 2000, and her brother were adopted in 1983. "I thank all you parents for what you are doing," she said. "Thank you for giving us love, hope and dreams."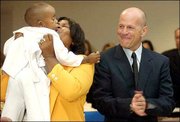 In Los Angeles, Health and Human Services Secretary Tommy Thompson appeared at the ceremony with actor Bruce Willis, a longtime supporter of President Bush who is serving as a national spokesman for children in foster care.
"President Bush has asked all Americans to serve a cause higher than themselves and to recognize that children are our highest priority," Willis said in a statement released by organizers of National Adoption Day.
Officials said about 565,000 children are in foster care across the country, of whom about 131,000 are available for adoption.
Copyright 2018 The Associated Press. All rights reserved. This material may not be published, broadcast, rewritten or redistributed. We strive to uphold our values for every story published.