The I-70 Business Center - formerly the Tanger Outlet Mall - is not exactly an architectural gem.
And unless they're renewing their driver's licenses or parking their vehicles to catch a carpool to Kansas City, very few people frequent the strip mall on North Third Street.
But Kansas University architecture students in a junior-level studio were challenged to surmount the building's shortcomings and design a new structure in front of the old that would lure traffic to both.
The diverse approaches that the students concocted - through hours of research, idea development and construction of intricate models - can be seen through Dec. 3 at KU's Art & Design Gallery.
They're just a single sliver of the dozens of projects on display in the gallery for "Graduating the Architect," an exhibition of student work leading to bachelor's and master's degrees in KU's school of architecture.
Exhibition coordinator Beju Benjamin, professor of architecture, said the display "brings the work that we do to the attention of the people of the state of Kansas."
"This is how we educate our children," he said.
The gallery is brimming with detail drawings, hand-built models of innovative structures and computer-generated plans. The variety of approaches to assigned problems is vast. Some are successful, others less pragmatic.
"It's an expression of creativity," Benjamin said of the students' work.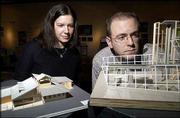 St. Louis junior Lisa Carpenter's answer to the problems presented by the I-70 Business Center is a pair of single-story buildings with materials and angles that have "a Kansas feel." The buildings - one a restaurant, the other a cyber cafe and general store - are interconnected with a boardwalk.
"I was up three nights straight," she said, relaying a story not uncommon among architecture students who spend many sleepless nights in the studio. "We spend a lot of time here."
But she said the hours she puts in and the instruction she gets at KU have brought her a long way.
"When I started, I didn't have a clue about architecture at all," she said. "I didn't know how to use a T-square or anything."
Justin Gaa, a Devil's Lake, N.D., junior, took the same assignment in a different direction - one that's two stories high and uses a lot of glass.
His concept was more or less a strip mall, "but crumpled up," he said, to contrast with the one that's already there. From the swanky coffee shop inside the all-glass building, patrons could see the strip mall and, hopefully, be enticed to visit.
An exhibition of Kansas University architecture student work is on display through Dec. 3 at KU's Art & Design Gallery. It displays student work from all studio levels and some supporting courses, such as freehand drawing, building technology, computers, structures, site planning and environmental systems.Gallery hours are 8:30 a.m.-4:30 p.m. Monday-Wednesday, 8:30 a.m.-9 p.m. Thursday, 8:30 a.m.-1:30 p.m. Friday, and 1 p.m.-4:30 p.m. Sunday. The gallery is closed on Saturdays and holidays.For more information, contact exhibition coordinator Beju Benjamin, KU professor of architecture, at 864-4383.
Gaa said he felt nurtured in KU's architecture program.
"I think they kind of evaluate everybody's abilities and they push you as an individual," he said.
Copyright 2018 The Lawrence Journal-World. All rights reserved. This material may not be published, broadcast, rewritten or redistributed. We strive to uphold our values for every story published.