St. Louis — Marc Bulger is going back to the bench unbeaten.
The man who began the season as St. Louis' third-string quarterback carried the Rams to their fifth straight victory Monday night, 21-16 over Chicago, then prepared to give way to Kurt Warner.
Bulger threw for 347 yards and two touchdowns to lead the Rams (5-5) back to .500 after an 0-5 start. He got a lot of help from a defense led by Adam Archuleta that registered seven sacks.
Nonetheless, Warner is expected to start next week in Washington for the first time since breaking his pinkie Sept. 29. He made a cameo appearance Monday.
"I don't want to give it back to him," said Bulger, who began the season as the third-stringer and threw for 1,496 yards and 12 touchdowns in his five wins.
"But Kurt Warner is an NFL MVP and I've known all along. I'm excited for Kurt to finally get back out there."
It wasn't easy for Bulger and the Rams on Monday night as they pulled within two games of San Francisco in the NFC West with six games left, including a season finale against the 49ers.
The battered Bears (2-8) trailed by a point going into the fourth quarter and cut it to 21-16 on Paul Edinger's 50-yard field goal with 3:42 left. But Bulger completed a clutch 10-yard pass on third-and-9 to Torry Holt with 2:30 remaining that forced the Bears to use their last timeouts.
"We just feel like we're finally out of a hole and we can make progress to our goal of getting to the playoffs," coach Mike Martz said. "I'm very proud of the way our team worked to get here. I'm not happy yet with where we are."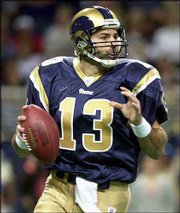 Isaac Bruce had six receptions for 141 yards and the Rams constantly pressured the quarterback. Chris Chandler was playing with a sore neck in place of Jim Miller, who had a sore elbow.
Warner made his first appearance in seven weeks in the second quarter, when Bulger was taken to the locker room for X-rays on an injured index finger on his throwing hand.
Warner was sacked by Keith Traylor and was 1-for-2 for 13 yards. Bulger, now 5-0 as a starter, returned after X-rays were negative.
"I really didn't expect him back," Martz said. "But he just came up to me and said he was ready to go in. I really didn't want to play Kurt at all tonight."
With Marshall Faulk out with ankle and foot injuries, the Rams had almost no running game. Lamar Gordon, Faulk's replacement, caught a 22-yard touchdown pass late in the first half, but St. Louis was limited to just 62 yards on the ground by Brian Urlacher and the Chicago defense.
Still, they managed to inflict the eighth straight loss on the injury-ravaged Bears, who were 13-3 a year ago.
Copyright 2018 The Associated Press. All rights reserved. This material may not be published, broadcast, rewritten or redistributed. We strive to uphold our values for every story published.