The events of Sept. 11 haven't changed Memorial Day for the Nicholson family. For the past 34 years, Emilie Nicholson has used the day to pay special tribute to her husband who was killed in action in Vietnam in 1968.
But Nicholson, and her daughter Jackie Wilson, believe the terrorist attacks of the past year perhaps have changed the meaning of Memorial Day for others. Both were at Memorial Park Cemetery Monday, laying flowers on Glenn Nicholson's grave and observing a Memorial Day service conducted by the Veterans of Foreign Wars Post 852.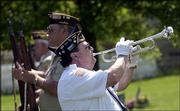 "I think you've got more of a turnout today than you have in the past," said Wilson, who recently retired from the Air Force after 20 years. "I think people are starting to realize the meaning of the day again."
For Nicholson, who now lives in Wichita, the day is all about memories. She remembers how her husband served his country for nearly 20 years in the Army, including two years as an instructor for Kansas University's ROTC program in the early 1960s.
She remembers how he was killed in the Tet Offensive in 1968, just one month before he was to be shipped back home. She remembers how his death left her with eight children to raise on her own.
But on Monday, she also had something else on her mind.
"I just wish people would remember and recognize our soldiers during both times of peace and war," said Nicholson, who met her husband in her native Germany. "I know what combat looks like. Our soldiers need to be recognized every day."
Across the street at a ceremony at Oak Hill Cemetery, Don McDow, outgoing commander of Lawrence's American Legion post, said he thought more Americans were becoming interested in honoring those who have served them.
"We're getting asked to speak at more events than we ever have before," McDow said.
He said the American Legion recently took part in a ceremony at South Junior High School to retire a flag the post had given the school 10 years earlier.
"I was real impressed with how much respect the students paid us," McDow said. "The auditorium was full of students, and you could have heard a pin drop. I'm not sure that would have been the case before Sept. 11.
"September 11 served as a wake up call for us all. It's just a shame so many people had to lose their lives."
Sen. David Adkins, R-Leawood, used his keynote address at the VFW ceremony to remind people to not only think of the past on Memorial Day. He said it also was an excellent time to think of the future.
"America remains the land of opportunity, but with that opportunity comes a great amount of responsibility," Adkins said. "In this country we are our government, and that is a great responsibility.
"As we all know, our way of life is under attack. Some use weapons of terror, others, unfortunately, choose not to care. The bugle is sounding today and we must now ask ourselves whether we are willing to answer."
Copyright 2018 The Lawrence Journal-World. All rights reserved. This material may not be published, broadcast, rewritten or redistributed. We strive to uphold our values for every story published.