Los Angeles — This has always been the anti-city, a sprawling circus with no center ring, known not so much for its downtown towers as for the rings around it including the San Fernando Valley, the vast suburbanesque tract that gave America the valley girl.
While the city south of the Hollywood hills attracted the wealthy, it is also flush with poverty and urban decay. By contrast, the valley is the 'burbs a paved platform for strip malls and ranch houses set along roads aligned to allow easy development.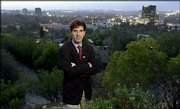 Almost since it was created by downtown real estate speculators in 1915, the valley has struggled for its identity. State laws quashed two serious secession movements in the 1960s and '70s, but now a vote on valley secession is one bureaucratic step away.
A regional board overseeing secession will decide Wednesday whether to place the San Fernando Valley city proposal on the November ballot. Decisions on similar efforts by Hollywood the fabled heart of Los Angeles and the San Pedro community at the city's harbor will follow in early June.
A San Fernando Valley city, which some have proposed calling Camelot, would have about 1.3 million residents and compete with Phoenix to be the sixth largest in the country. It would be larger than Boston, Detroit and St. Louis.
If the movements are successful, the shrunken Los Angeles would become the nation's third-largest city, behind New York and Chicago.
"People in the San Fernando Valley do not feel like we're part of L.A.," said Theresa Cannon, who believes secession would bring lower taxes and better services.
But valley resident Leslie Lee thinks a new city would have trouble duplicating current services. "We're too big to spin off, and we're not totally prepared," she said.
Secession supporters say the city is too large and too unresponsive. Even anti-secessionists acknowledge that the valley home of 33 percent of the city's population and 50 percent of its land has fewer police officers, fewer libraries, parks and bus and mass transit lines than the communities on the south side of the mountains.
L.A. Mayor James Hahn and the city's political and business leaders plan to raise $5 million to convince valley voters that divorce is not the right decision. Hahn has been making at least one appearance a week at valley events and says city officials have changed.
"This has happened because government hasn't responded in the past, but I think we're doing a lot of things differently," he said. "We want to show we are going in a different direction."
Like many divorce battles, this one is about money, assets and identity. Police and fire stations, parks, civic buildings and other infrastructure, even the Hollywood sign are potentially up for grabs.
"Any time you go through a divorce, both sides end up with less," Hahn regularly warns his audiences.
Jeff Brain, a commercial leasing agent who has spearheaded the valley's secession movement, counters by saying the valley would pay the remaining city of Los Angeles $55 million a year for 20 years in what amounts to municipal alimony. The board overseeing secession considers the money reimbursement for lost revenues to the city, as required under state law.
Brain tells residents in communities that will remain in Los Angeles that secession will bring them a smaller, more efficient city.
"Valley secession won't cost you a thing," Brain said.
Nationally, urban affairs experts warn other cities not to be too smug. Los Angeles has exported everything from skateboards to facelifts, and secession could follow.
"Every city has some neighborhood that doesn't feel loved. And every one of those cities will be looking with interest at what L.A. is doing," said George Thomas, an urban affairs professor at the University of Pennsylvania.
Copyright 2017 The Associated Press. All rights reserved. This material may not be published, broadcast, rewritten or redistributed. We strive to uphold our values for every story published.