It's no coincidence the procession of Kansas University graduates down Campanile Hill lasts longer than the commencement ceremony itself.
The event is all about the walk.
About 4,000 KU students continued the tradition Sunday, marching down the hill, letting out a celebratory wail in the Campanile and receiving their degrees at Memorial Stadium.
"It didn't really hit me that we were graduating until we walked through the Campanile," said Lindsay Kincaid from Overland Park, who received her education degree. "It was a great feeling to walk through the Campanile amongst friends."
KU officials said an estimated 30,000 people attended the university's 130th commencement, which included an hourlong procession followed by a 45-minute ceremony.
Not everyone walked down the hill. Adam Burnett, Melvern, rode in his wheelchair. A diving accident two days before his high school graduation in 1994 left Burnett partially paralyzed.
Burnett, who graduated in atmospheric science, went down the hill with Lorax, his 8-year-old Labrador retriever service dog that attended classes with him four years at KU.
"She's like another meteorology student," Burnett said. "I was hoping she could get an honorary dog degree."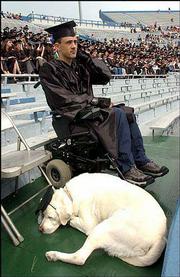 Janelle Splichal, Munden, and Sarah Arbuthnot and Randy Holt, both of Belleville, have been in school together since the fourth grade. They graduated from Belleville High together.
"I think graduating with them makes it more meaningful and special," Splichal said. "They're my family, and it's special to graduate with them."
Inside Memorial Stadium, the event wasn't all pomp and circumstance. Jeff Boone, a journalism graduate, started the ceremony by stripping off his cap and gown to reveal a Superman costume, then running to the 50-yard line, where he danced before running out the north end of the stadium.
Grads started the wave and passed a beach ball around while waiting for the ceremony to begin. School of Medicine graduates sprayed champagne into the air as they were presented for degrees.
Chancellor Robert Hemenway mixed humor into his address to graduates. He reminded them that they learned as much out of the classroom as in the classroom. He cited student parking tickets, which drew boos from the graduates.
"Yes, you can walk down the hill," he said. "No, you can't get your diploma until you pay your fine."
Hemenway urged students to consider how their education would help them away from their jobs, to think globally when considering their goals and to always remember two major events of their senior years the Sept. 11 terrorist attacks and the Jayhawks' trip to the Final Four.
The walk down the hill is a metaphor for graduation from KU, he said.
"You've completed the curriculum, ripped through the requirements and now you've walked the walk," he said. "You've descended from the university the ivory tower and into the world."
Copyright 2018 The Lawrence Journal-World. All rights reserved. This material may not be published, broadcast, rewritten or redistributed. We strive to uphold our values for every story published.