Traverse City, Mich. — A bit sheepishly, the elderly cardiac patients head to the middle of the room in sweatshirts and sock feet.
For 15 minutes they move gingerly through a series of stretching exercises under the tutelage of Ann Smith, whose writings and videos are dedicated to the proposition that staying fit need not be torturous.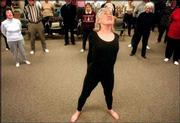 "Don't punish yourself and try to do something your body isn't equipped to do," Smith says in a soothing tone, bending her 74-year-old waist but not her knees and touching the floor with open palms.
No one duplicates the feat, not even medical staffers less than half her age. But what matters to Smith is that every one of the three dozen seniors attending her workshop at Munson Community Health Center takes part. Getting people out of their chairs is half the battle.
For more than 40 years, Smith has advocated fitness training modeled after the slow, rhythmic stretching regimen of classical dancers. Her approach is sharply at odds with the high-octane, Spandex-and-hip hop style so prevalent in health clubs and gymnasiums.
Married 51 years, with three children and seven grandchildren, Smith divides her time between homes in Alexandria, Va., and Onekama, Mich., a village near Lake Michigan where she runs an art gallery. Her busy schedule of traveling and lecturing was slowed only briefly by breast cancer treatment a couple of years ago an experience that inspired one of her four videos.
She has demonstrated her techniques before frail seniors in nursing homes; welfare mothers in the Washington, D.C., area who wanted more strength so they could get construction jobs; physical therapists in Reykjavik, Iceland; and even the then-Los Angeles Rams.
She doesn't promise washboard abs or buns of steel, though her trim, firmly muscled 5-foot-8-inch frame is reason for hope. A more valuable payoff, she says, will be good health, heightened mental and physical energy and a cheerier outlook on life.
"Exercise is meant to energize you, not exhaust you," she says a message not just for the elderly.
Too many young and middle-aged adults get flabby because they believe they're too busy to exercise, Smith says. What they really don't have time for are regular workouts at a gym.
Get moving
There's nothing wrong with high-powered aerobics and weight training geared toward bulking up, she says. But many people find that boring or just too hard. For them, getting in shape can be a simple matter of incorporating stretching and motion into the daily routine.
In other words, get up and walk.
"Make sure every day your body is moving at least 30 minutes simple, ordinary movements. Walk to the store instead of driving. Climb the stairs instead of taking the elevator. Find your own pace and do what feels good."
That's sensible advice for anyone, but particularly the elderly and people with heart problems, says Dr. Dino Recchia, medical director of the cardiac rehabilitation program at Munson Medical Center.
"When it comes to fitness, the greatest gain comes simply by moving from the level of doing nothing to doing something just getting off the couch and doing anything," Recchia said. "There's no substitute for physical exercise. There's no gadget you can buy on TV that's going to do the job for you."
An honest workout
Smith's latest video, "Rise and Shine," offers a different set of exercises for each day of the week, none longer than four minutes. She and husband, Roger, demonstrate wearing pajamas, to sprightly classical background music.
Their movements are graceful, seemingly effortless. But it's an honest workout, as a first-timer's sore muscles will later attest.
"The idea is that if you do a little bit of exercise every morning before you get dressed, it's easy to make exercise a regular daily habit," Smith explains on the self-produced video, which Amazon.com listed as a top seller earlier this year.
Raised in suburban Chicago, Smith was trained by her mother, a follower of modern dance pioneer Isadora Duncan, and also studied classical ballet. While teaching in Milwaukee and New York, she became convinced the stretching exercises dancers use to limber up would work as well for others if kept simple. She developed a program in the late 1950s and refined it over the years.
She began writing magazine and newspaper articles, followed in 1969 by her first book, "Stretch." Its successor, "Celebrity Exercise," featured interviews with the likes of actress Helen Hayes, journalist Art Buchwald, blues musician B.B. King and theologian Norman Vincent Peale.
"Not one of them did the trendy sports exercises," Smith says. "Most were walkers. None professed to do it for the sake of exercise; they just liked to walk."
Copyright 2018 The Associated Press. All rights reserved. This material may not be published, broadcast, rewritten or redistributed. We strive to uphold our values for every story published.