Prague, Czech Republic — First lady Laura Bush has come a long way 4,895 miles from the political-wallflower image she carried into the White House 16 months ago.
In her overseas debut, Mrs. Bush lashed out at Palestinians who incite teen-age suicide bombers, rose to defend her embattled husband and let it slip that she greased a pet project through the executive bureaucracy with a single phone call.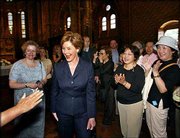 "Right now, while my husband is president, I have the responsibility to talk about issues that I think I can make a difference on," Mrs. Bush said Saturday before leaving Hungary for Prague.
It has been a familiar line for American first ladies since Eleanor Roosevelt set the standard for championing a cause. But playing it safe was how Mrs. Bush acted, sticking to speeches about childhood learning and literacy.
Just last week, Paris' Le Figaro newspaper welcomed Mrs. Bush to France with an article observing, "Laura listens more than she speaks."
Until now.
In Paris, she condemned Palestinians who deploy young "martyrs" strapped with explosives to Israeli markets and bowling alleys. In Budapest, Hungary, she scolded her husband's critics and accused them of using the Sept. 11 victims' families as political pawns.
There is not much political risk in condemning terrorists or defending one's husband. But this is a woman who busied herself with two weeks worth of household chores at the Bushes' remote Texas ranch just 10 days after they moved into the White House. "Nice" and "ladylike" were the two words most people came up with when asked about Mrs. Bush in a Pew Research Center poll last July.
In that same survey, 61 percent of respondents said that, compared with previous first ladies, Mrs. Bush had less influence with the president on matters of policy and politics.
So who could have foreseen her diving into the Mideast crisis and political furor over the president's pre-Sept. 11 briefings?
Jeanne Phillips, for one.
"I think she has surprised people. But I've known her for 20 years and I think she's remarkably the same. Her friends, we all know she's very smart, very direct," said Phillips, the U.S. representative to the Organization for Economic Cooperation and Development in Paris.
No doubt cognizant of the sharply divided public opinion that Hillary Clinton courted as first lady, Mrs. Bush appears ambivalent about revealing too much of the influence she herself wields in the West Wing.
Telling reporters about a U.S. grant to produce school uniforms for Afghan girls, Mrs. Bush volunteered that she had called Labor Secretary Elaine Chao for the money. The first lady then hesitated on a follow-up question on whether she made up Chao's mind for her. "I think so," Mrs. Bush replied, softly.
During a visit to a cancer hospital in Budapest, Mrs. Bush insisted that women worldwide be given "access to important health information and resources."
But she gave an ambiguous answer when asked to square that with the Bush administration's refusal to release a scheduled $34 million U.S. contribution to the U.N. Population Fund.
Copyright 2018 The Associated Press. All rights reserved. This material may not be published, broadcast, rewritten or redistributed. We strive to uphold our values for every story published.